Nov 30, 2009
7,354
51,862
Funster No

9,521
MH

PVC the PUG
Exp

Since 2009
We'd love to drive Pug down to Southern Crete , but alas we've not yet got the time. We can only manage 3 weeks tops, and not wishing our life's away to retirement . It will come , as it does to everyone .
Aghia Galini was a tiny fishing village back in the day . We've visited numerous occasions , having got married there 23 years ago . Its got bigger since the old days , but not grown in all the years we've visited .
One road in , down to the Harbour and the same road out back up.
You can camp in the Harbour we've seen many a pvc down there . But not an RV , Aclass etc.
www.agiagalini.com
It has a great little campsite with all the facilities and a great taverna that does fab food.
It's called Camping Noproblem
We like to sit around by the pool and relax there , having lunch almost daily in the taverna when we visit on holiday . It's quiet , clean, and peaceful .
Here are a few photos of the campsite for anyone interested in traveling down to Southern Crete for a visit .
Toilet and shower block
We'd thoroughly recommend the place .
Theres a washing up room with a huge communal fridge to the right and commercial freezer to the left .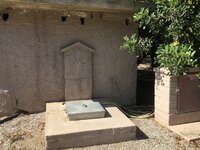 Elsan area
entrance into site. Tents caravans and camping cars welcome .
Plenty shady spots .
spotless pool .
Some food eaten in the taverna which is very reasonably priced and cooked to order .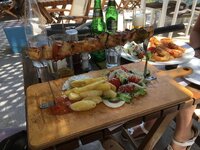 A huge platter of lamb ( big leg ) and traditional Greek food . We were going to get one each but we're told it was big ! It sure was .