Jul 30, 2017
11,819
28,554
Funster No

49,727
MH

Hymer 654
Exp

On and off since 95
Ok so as its officially lets hit the road day and the old thread had got to long anyway.
This is my new thread for my second trip in to Europe.
The folk following my old thread will be up to speed but for anyone new I'm tam
The four legged companion is jade.
This is Toby the hymer
And we will soon be joined by new addition "milo" when we get to Spain
This is the start of my second trip to Europe.
Left dunfermline Fife scotland today and I'm parked up here tonight at spittal seafront Berwick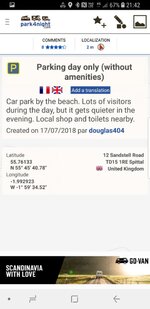 Will be making our way south to folkestone over the next couple of days and over to France on Thursday 17th.
No set plans for the trip other than a week through France probably 6 or so weeks in Spain and then either morroco or head east through south France towards Italy and Greece. Anything up to 12 months is the plan .....will see how it goes
Last edited: