Jul 31, 2014
1,660
2,574
Funster No

32,620
MH

EuraMobil Activa 820HS
Exp

2007
hi all,
I thought I'd share my handy work with you.
With exception of the dinette and rear table (U shape rear lounge), my motorhome like many, has limited worktop space.
The hob has a glass lid cover, as does the sink, but hardly any work surface between. So I've made a folding worktop.
I bought a Pine shelf kit from B&Q and after testing nearly every colour of varnish, oil and wood dye on the shelf brackets, finally decided on antique pine as the nearest match to the internal fitted Memphis Cherry woodwork. (
@Techno100
- your prediction of antique pine was correct!)
So, four coats later on the actual shelf and it looks a good match. Shelf brackets no longer needed.
I bought a Rakego folding bracket (used on boats for space saving) as the support bracket and used hinges between the shelf (now worktop) and a baton screwed and glued to the side of the oven outer wood wall.
With some trial and error positioning, I've managed to get a strong, stable and level worktop.
The Rakego is rated to around 60kg for a spread out weight on the worktop, which is about just right for my wife's Desperate Dan cow pie, so I'm sure we won't be having a disaster of the plates going through the floor when it's dished up!
All I need to add now is a rubber door stop/bung to the underneath, to keep the worktop vertically straight and protect the Rakego support screws from pulling out when collapsing down the worktop when not in use.
Photos as per below.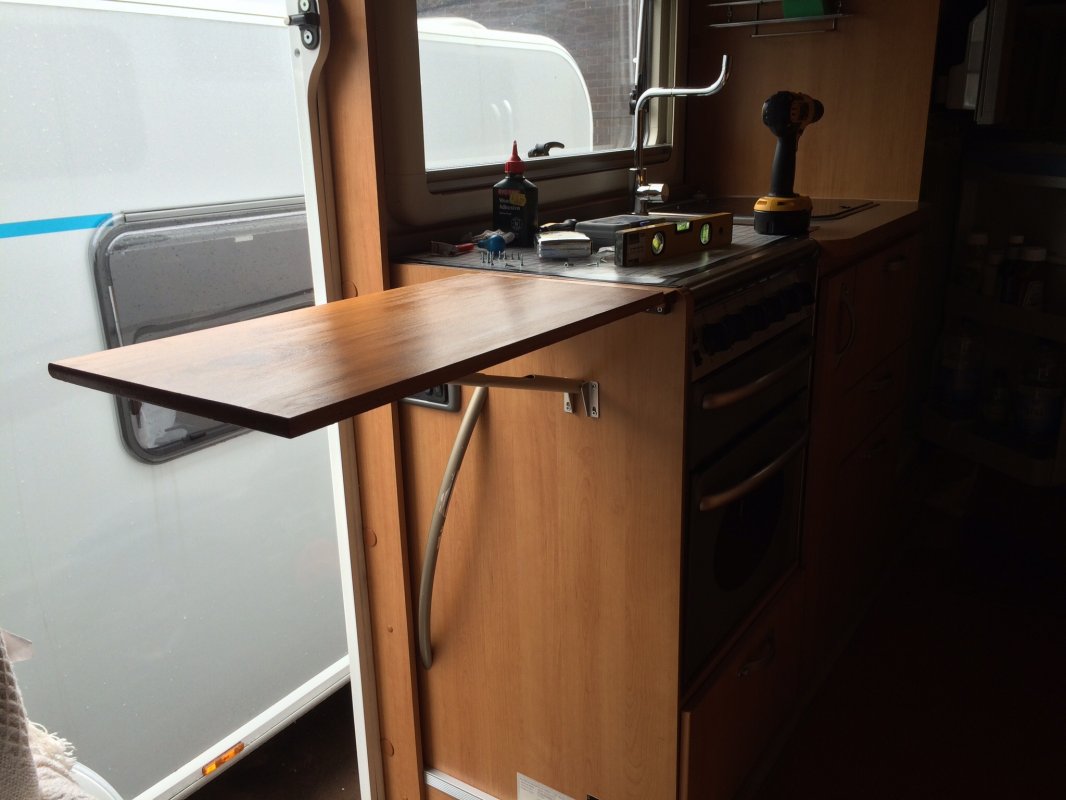 Let's hope gas doesn't escape via he screw holes from the oven! Ha ha