I was in TK Max today and noticed they had some sink organisers for a few £.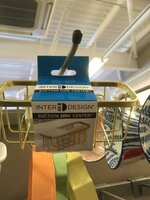 Just the job for our little glass topped sink
Actually the metal one (stainless!) is perfect for our washing up liquid and cooking oil (separate items! ). Just needs a couple of screws
Sorry if these have been posted previously.