I was given some helpful advice (Jaws and others) on a thread about fixing snapped wires preventing the operation of central locking of habitation doors. I'm now in Portugal and it's warm enough for me to contemplate a repair.
However, I have become quite confused over the wiring. I took the door cover off and the wires to the lock solenoid are brown, blue and green. They then disappear into the sealed area of the door. Coming out of the door at the bottom are blue, green, (both snapped) brown, red and white wires. ( If you increase the size of the photo, you can just see the snapped green and blue wires). They then go into the door frame area. See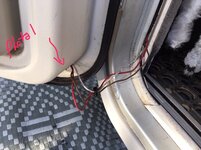 j
photo 1.
Then, from under the van, looking upwards, there is a sleeve with 4 wires: brown, white, red and green. These are then spliced to two wires; a white and what looks like a yellow and green (possibly yellow and black) and they disappear into the floor of the van. See photo 2.
So what is confusing me is that the blue wire from the lock, snapped at the door doesn't seem to have a 'mate' to connect to with the sleeved brown, white, red and green. To what do I connect the blue wire from the door? Sorry if I haven't explained this too well. Hopefully the photos are some help.