Jan 26, 2017
3,335
11,154
Funster No

47,068
MH

Autosleeper Inca
Exp

Seven Years and 25,000 Miles.
When the sun is shining brightly, my control panels (solar and vehicle) 'strobe' between 12v and 14v.
As a result any lights used in the daytime keep a rhythmic pulsing from bright to not so bright.
As darkness falls everything settles down, both batteries get fully charged, I have a Battery Master fitted.
Do you think I need better solar controller?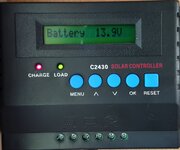 All this was already fitted to our van when we bought it.