Used this for the last 6 years with no problems.
Maps are not up to date so occasionally when you're on a new road it shows you in a field.
Complete with screen mount, charge cable, reverse cam cable and pouch.
Speed cam alerts.
5" Touch screen. Shows speed limits and actual speed.
Input van dims. and wt. for routing.
Battery lasts about hour and a half so I've always used it hardwired when driving.
£25 including postage or collect in Norwich.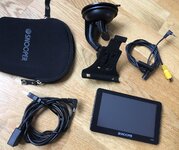 Last edited: