Oct 20, 2010
1,987
30,516
Funster No

14,190
MH

A Class
Exp

Since 2003
Been trying to get a replacement female lock socket for the Alloy wheels on my new van.
I have been advised by Rapido in France that they are AL-KO items, contacted AL-KO they say they do not supply wheel bolts or sockets !!
The normal bolts are 16mm thread with a 19mm head, the locking bolt head is also about 19mm diameter.
Photos of the wheel and bolts.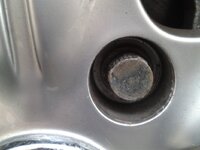 Any Idea where I can get a replacement socket, or alternative would be welcome.