I have decided to set myself some self-help projects, useful additions to motorhoming or just day to day general aids. The criteria being 1. The job mustn't be too 'heavy', and something I can carry out on my own. 2. The cost for all materials must be under £100.
My car is a Mk1 Citroen Berlingo Desire, (the glass roof and roof and roof locker model), 1.9 diesel. At the Malvern show last year, Ali bought me a SupaScoota XL mobility scooter. It was the one I had researched, and hankered over, because it's built like a tank, and both rear wheels are driven independently, giving it a great climb ratio, (1 in 6), and blow up tyres for grass use etc. Also, it has a great fully sprung seat, and the whole lot fully collapses flat for storage........However, like most good things, there is a drawback. It's heavy.
There came the rub. By stripping it, I could get it into the Berlingo, but then, on arriving at a destination, it had to be manhandled out, and built up at the kerbside, not ideal. The more I looked unto the problem, the more I realised that custom made vehicles were VERY expensive, because they are modified to have a sunken rear deck/floor, allowing a folding fixed loading ramp to be fitted, that could fold up as the rear door was closed. The ramps themselves can cost around £1,000........Not a sum of money I could even entertain at the moment.
The rear access on the Mk 1 Berlingo sits at something like 16" from the road, quite a high angle, but I was sure that if I could find alloy lightweight ramps, of the correct length, then The Scoot could negotiate the climb. Then, by folding two of the three rear seats, it should roll in nicely under it's own power, set on 'crawl'.
After trawling the web and ebay for an hour or two, I came up with all sorts of different ramps and allow sections, but most of them contained a center strength rib, no good for Mr Scoot, as he has narrow front wheels. Eventually, I found this.........
https://www.ebay.co.uk/itm/252111106866
A pair of single ramps, joined together in seconds by slip pins, with captive pins on chains to locate into holes drilled into the vehicle. Further more, each section is built like a suitcase, and folds together, with a carrying handle. Two sizes.....4 ft and 6 ft, with a considerable price difference. After much measuring and chalk marks on the road, I decided to take the risk on the cheaper 4 foot, reasoning that the ramps would clear the towball, and that the Scoot could climb the slope..........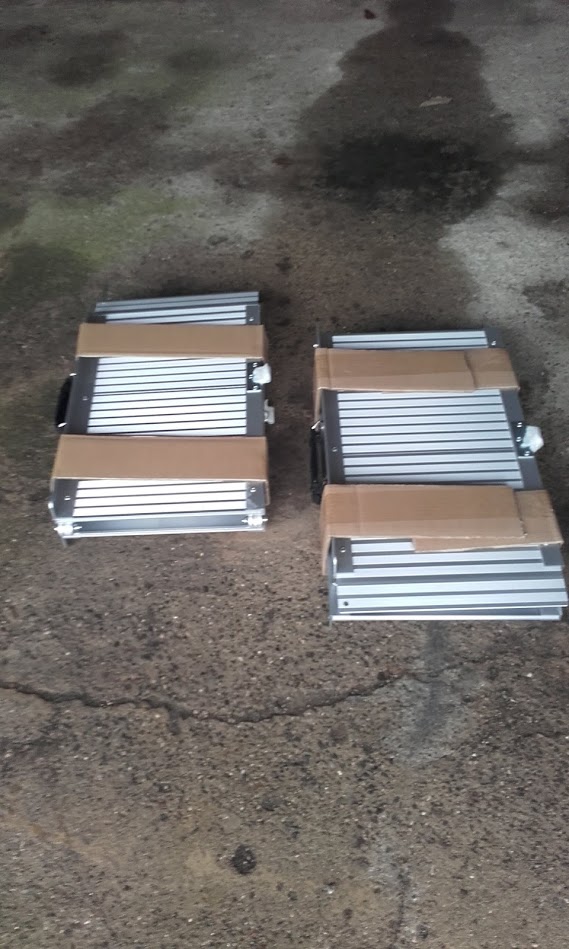 Arrived, ready to unpack. Locked into the folded position.
Here are both sections ready to be slip-pinned together. Build quality of this product is 100%, and the manufacturers have gone the extra mile to eradicate sharp edges etc.
Both sections now joined together. It seems like the risk I took in ordering the 4 ft product was justified.
After positioning, I drilled two 10 mm holes through the pre-made holes in the ramps, and into the rear cross member of the truck. Two spring ball pins, chained, provide adequate security for loading/unloading.
STAND BY FOR TAKE OFF! Mr Scoot climbing, (with ease), the ramps. So easy by using the crawl feature and the hand control. The Supa Scoota is fitted with an electro-magnetic brake system. Once the power is off, the rear wheels lock.
Loaded and ready to go. The Berlingo's are fitted with sturdy floor clamps, and by using a single tie down 'ribbon', the load stays solid. Seconds to fold and load the alloy ramps, (12 lb each). Plus, plenty of room for the weekly shop left over.......Once I clear my crap out of the back! And, the hound still has her single rear seat and belt support.
4ft Ramps - With permanent silver grip finish
Folded Length of each part - 63cm / 24.8"
Folded Width of each part - 36cm /14"
Folded Depth of each part - 13cm /5"
Length assembled - 122cm / 4ft
Width Assembled - 74cm / 29.5"
Depth Assembled - 8cm / 3.1"
Total Weight - 11kg / 24lbs (both parts together) so each is only 5.5kg / 12lbs
Internal width of track - 66cm /26"
Box Size - 64cm x 40cm x 26cm
Heath Robinson?? Maybe, but, this system more then fills the criteria I was hoping to achive. And, it dosent end there. A single ramp would slide nicely into a M/H habitation door, for say loading bikes carried inside, or a full shopping trolley.
And, all for less then my £100 target.
Last edited: