So I noticed that after 6 months or so of the MH sitting dorment the bedding I had left on the bed under the monocoque was soaking, as was the mattress. (applies to front of monocoque only)
I figured the front window was leaking and was looking to repair it, as surely the "one" piece fiber glass shell wasn't leaking!?
Out of curiosity I removed the ceiling covering material today to take a look and discovered the following "repair", the strange thing about this is that the outer shell of the monocoque shows no sign of repair, I have been on the roof putting solar panels on, I have cleaned the monocoque too so would have noticed a repair?. Repair only seems to be evident from the interior of the van (albeit after removing the ceiling material).
I then assumed the roof was leaking, but now I believe this to be a condensation issue
How this cowboy repair came about, I have no idea - but the foam insulation had a huge air gap between the foam and fiber glass ceiling and this is what I believe has contributed to the water/moisture.
I plan to fill the huge gaps between the cuts (hacks) with expanding foam insulation, dry the fiberglass and glue some YBS Thermawrap to the ceiling before refitting the cloth material to the ceiling.
Can anyone provide some guidance?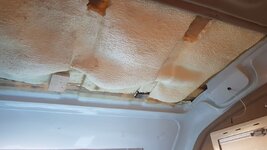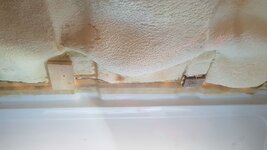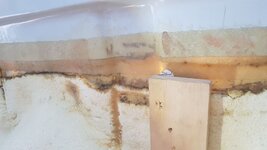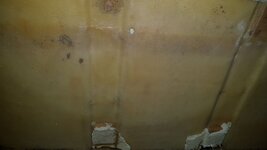 Last edited: