Joined

Aug 22, 2007
Messages

18,517
Location
MH

Globecar Campscout
Exp

Since 1996
Currently 'camped' at the viewpoint/picnic spot down the road from the show ground! So far there are 4 of us wild camping and we'll probably have a couple more I reckon for tonight, nice spot with lovely view over the Lincolnshire countryside towards the power stations, lovely sunset too tonight.
We had a nice wander round Lincoln this afternoon (finding parking was horrendous!) and hit the shops - got a nice towel holder in Wilko, similar to the below but nicer looking with rounded ends - it was reduced to 25p (not sure of the original price) but when it went through the till it was only 10p!!! Gonna put it up in the washroom for our hand, face etc towels to keep them 'captive' as they tend to jump off hooks!
Also got a pop up 'delicates' dryer - the sort of thing you lay jumpers etc on to dry without creasing/loosing shape, it comes with a zipped carry bag and a karribena ... for the princely sum of 25p ... originally these were £6!! I intend to use it as a barrier on a night time to put across the aisle to stop the dogs getting through to us and jumping on the bed.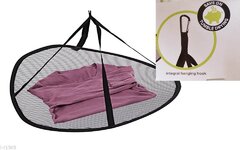 By far our 'best buys' though were 7 tents from Halfords, four reduced from £150 to £40, two reduced from £120 to £30, and one from £300 down to £100 ... should turn a nice 'profit' on them next year!