Thought that this one would be worth mentioning on here, just in case anyone else is hit by the same problem - it took some pretty good detective work by the service department of Marquis Newbury to work it out in the end...
We have Whale air heating and water heating in our van (2021 Benivan - basically an Auto Trail
PVC
with Benimar stickers). It has two circular control panels, one for the water and one for the air heating, like this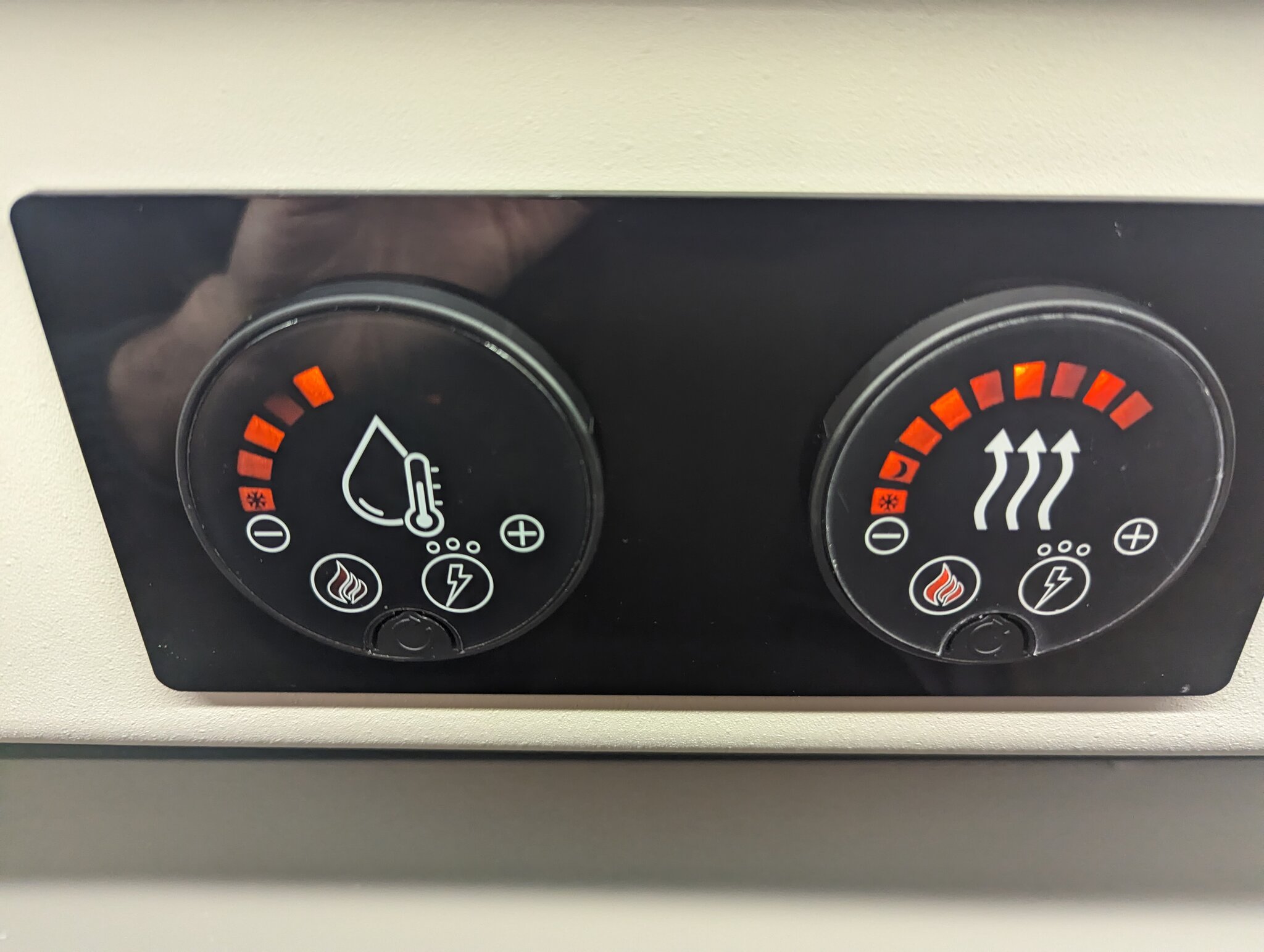 In early 2022 we started having trouble with the water heating - the control panel would do odd things, sometimes come up with actual fault codes and other times just not do what it was supposed to with no fault codes. Turning it off and on again a few times would usually fix the issue, but it slowly got worse to the point that it was almost impossible to get it to work.
It seemed like a control panel fault, so that was the first thing to get replaced back in June. The van was then out of use for about 6 weeks with the Fiat DPF problem, so at first we didn't realize that the issue wasn't properly fixed by the panel change - in fact there now seemed to be no way to get the hot water to turn on.
Whale phone support were helpful at this point when I called them and suggested that I should ask my dealer to replace 2 circuit boards in the water heater itself - unfortunately Whale warranty department were less helpful and would only send out one board at a time (and not very fast at that), so it rather dragged on waiting for parts to arrive, having them fitted and finding that they failed to fix the problem.
This week, the last of the suggested parts arrived and still failed to fix the problem (the parts were the main PCB and the 'LIN' PCB on the water heater - the latter handles communication with the control panel). Marquis were very good at this point and started taking parts from another van in stock to test in our van - they ended up with basically a whole new heater unit of the other van plugged into ours and still not working. This is where we left things yesterday, and I was quite worried that there didn't seem to be a solution in sight.
Fortunately a night's sleep clearly gave them some new ideas to try out, and I got a call this morning to tell me that they'd fixed it. The cause...?
It turns out that the controller for the warm air heating provides power and data to the water heating controller (the two are linked by a short 3 way cable). Since this was connected to the system, they decided to try a new warm air controller and suddenly everything started working. Oddly the original warm air controller worked absolutely fine, but in some way it was upsetting the water controller - maybe not providing the right power supply? maybe sending bad data?
Hats off to Matt and the team at Marquis Newbury for managing to work this one out!
cheers,
Robin