Jan 9, 2013
13,247
20,911
Funster No

24,219
MH

PVC, Murvi Morocco
Exp

2013
Coming through Brittany a few days ago I was reminded this is the globe artichoke season. They grow a lot of them in the area, especially around Roscoff and this Sunday there is even an artichoke fête.
Organisé par La Confrérie de l'artichaut de Bretagne. 9h30 à 18h : marché de l'artichaut et des légumes du terroir, démonstrations culinaires, dégustation de produits, animations par l'association des Tad-Coz (vieux tracteurs - véhicules anciens –battage), marché d'artisans avec 25 exposants...
Worth going to if you are anywhere in the area.
But how, I hear you say, do you prepare them? They're a relative of thistles, are they even edible?
Yes! They are delicous.
The problem with globe artichokes is the choke - which is the hairy bit at the heart of the flower. Removing this when the artichoke is raw is a pain but the beauty of this recipe is it avoids you having to wrestle the artichoke to the floor to deal with the choke.
Start with your artichokes. You could pinch these from a field if you are in the right place but I can't endorse such behaviour.
Trim the stalk flush with the bottom of the flower then cut them in half. You will need a sharp knife for this and try to finish with the same number of fingers as you start off with.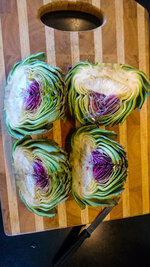 The fibrous bits you can see are the chokes. Just leave them in place and boil the lot for 30 minutes in water to which the juice of a lemon has been added plus the two lemon halves.
After 30 minutes take them out of the water and let them cool. You can speed this up by immersing them in cold water. When they are cool enough to handle take a teaspoon and remove the choke and the thin red scales above them. Unlike when raw this time the choke will almost fall out on its own.
Serve with a dressing of some sort. Hollandaise is traditional but not easy to make in the MH so either buy it in a jar or just use melted butter, vinaigrette or whatever.
But how do you eat them? It couldn't be easier - once you know the trick. The flower head is made up of lots of what are usually called scales or more scientifically "bracts". All you do is pull them off one at a time, dip the base of the scale in the dressing and then nibble the base of the scale to extract the fleshy bit. When you've finished off all the scales the best bit comes last - the heart, which is the disc of soft flesh you will have left on your plate.
OK, it may not be the most MH friendly recipe, it needs a lot of water and a big pan but do give it a try.