Sep 16, 2013
2,214
7,703
Funster No

28,132
MH

Van Conversion
Exp

Since 2006
For a week or so I've been thinking about having the ability to angle the solar panels on next build, to extend the months I'm likely to be solar dependent.
I already have 400Ah of LiFePO4 and can go 3-4 days without any charge.
This is the layout I have in mind, with 3 x 250w panels on a Boxer L4H2: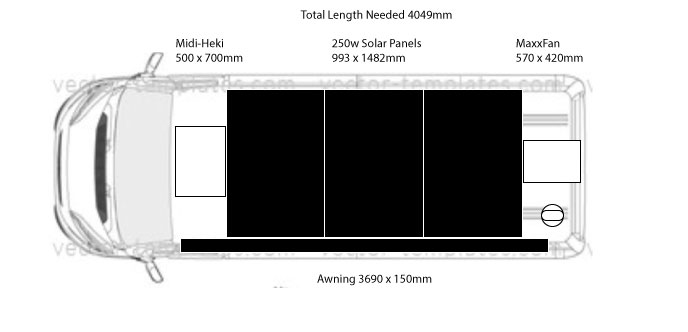 Initially, I was thinking of a mechanism to lift the panels on the
awning
side, then have them slide down the drivers side of the van a bit. I did a few designs, but they all had faults. Plus, the van is more likely to have the awning side facing the sun. So I looked at it a different way.
What about if I built a large roof tent with the solar panels on top. I'd then have a spare bed for when Nieces and Nephews want to come away for the night, plus it would be ideal for the Missus who is into night photography. I came up with this:
I've added a 90cm wide mattress, which would probably be inflatable as only for occasional use. At first I thought a ladder on the drivers side of the van to get in and out, but now thinking of an internal ladder and hatch through the roof. My panels will take a space of 3m x 1480mm, so plenty of length for a bed and a hatch. Thinking like this:
The large rectangle in the middle would be the mattress with the hatch in front. The other two boxes are just where a bed and the bathroom is inside. A ladder could fit against the outside of the bathroom wall.
So it could be opened/closed from inside, I could add solenoid shoot bolts to lock/unlock, then have gas struts for the lift. The tent part I'd have to have made (probably by a VW pop-top refurbisher), but the rest could be made from aluminium box section.
Anyway, a work in progress. But I do like the concept. To give a better idea, imagine this a different shape and less industrial, with solar panels on the top:
Obviously not good to have up in high winds, but if these roof-tents work then so should my idea? Anyone have any thoughts or suggestions?