Cooking Gear and Gadgets
Over the last 35 years we've jumped on most motorhome cooking fads and tried out a lot of different kit. Siân is a foodie and enjoys cooking. I'm not a cook, but enjoy eating. Of course I do cook, but only where a man is often expected to excel, on a barbecue. We have tried a lot of kit. Here's our take on some of the stuff we've owned.
Gas Barbecues
Gas barbies are convenient because most vans have gas onboard already and it's easy to use a bottle or have the system adapted to hook up to a connection on the side of the motorhome. When it comes to motorhome cooking it seems gas is the most common by far.
Cadacs
The large Cadac Carri Chef like the one in the picture, was and I think, still is, very popular, but you couldn't give me one of these things. We've owned a couple. The main reason for me hating on Cadac is that they have ruined every meal I've ever cooked on them.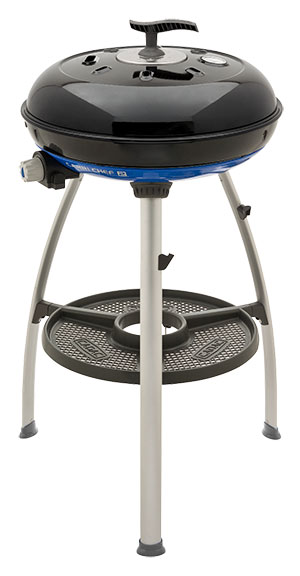 No, they don't burn or spoil it. In fact, they cook very well. The flame is controllable; it has a great grill surface; the lid turns it into an oven and the food will be delicious. It ruins the meal for me because all the way through eating it, I'm thinking about cleaning the bloody thing! What a pain. If you are grilling/barbecuing, you'll be cleaning it long after you enjoyed that steak.
If you are frying though, they are superb; it is essentially a big powerful gas ring. Cadac makes a large non-stick paella pan, which will do a full breakfast for four and the only cleaning required is a simple wipe with a kitchen towel. These pans are expensive, but I can vouch for them. I have some that are over 8 years old and have cooked thousands, yes, literally thousands, of rashers of bacon on rallies. The outsides look tatty now but the non stick surfaces are still good.
I'm told that the mini Cadac, the safari Chef, is much better and easier to clean, but I've no experience of it. They now have an electric version. Quite a few were being sold at a recent motorhome show, so I'm sure we'll learn soon enough if the thought of cleaning them ruins a meal. There are literally dozens of different Cadacs, many of them developed since my early experiences with them. Given their popularity, I'm sure that some models are great. Look out for comments below, or search the forum for "cadac" you'll get lots of opinions, probably a lot more current than my own.
Charcoal Barbecues
These take some beating but are not as convenient as gas. Lugging charcoal and firelighters though is a pain, but this is more than compensated by no worres about cleaning it after dinner. My favourite for outdoor motorhome cooking is the Webber. If you have the patience to leave it be and get the coals just right, they cook food a treat. Most people are eating just as the coals are perfect to start cooking! It packs down nicely and can be taken most anywhere. Just fold the legs in the morning, dispose of the ash and put it away. Any grease on the barbie will be burned off when you next light it.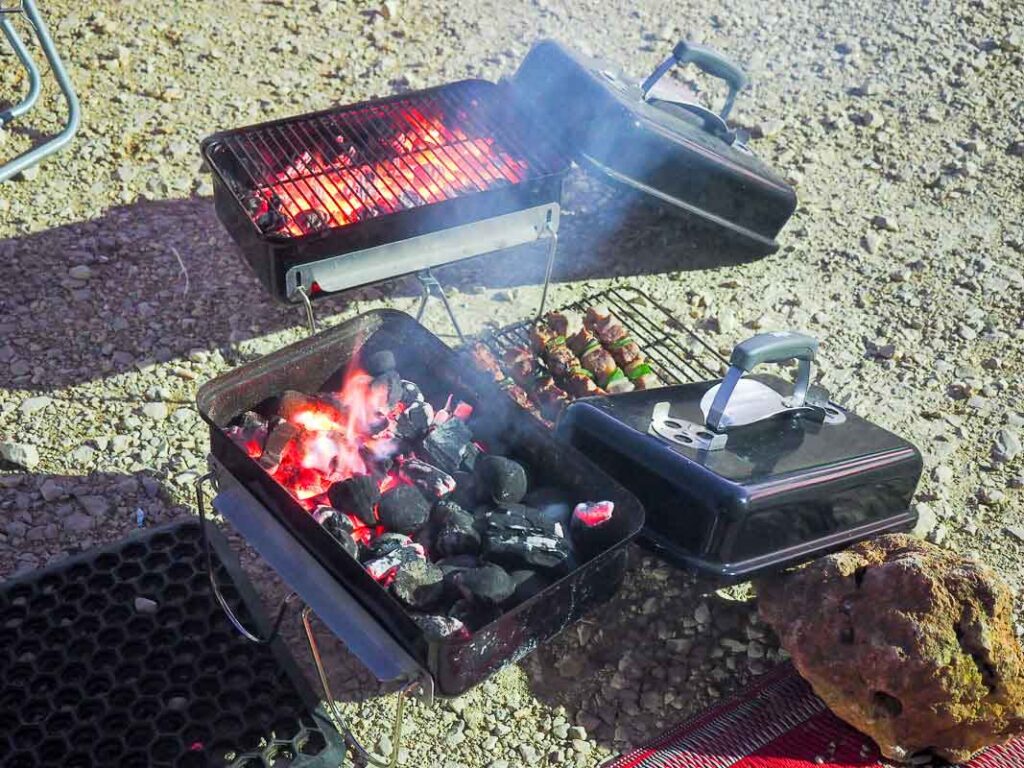 A pair of Webbers almost ready for a communal BBQ an Aire in Portugal​

Stove-Top Ovens
So many vans come without an oven. Our continental cousins just don't insist on them. We always ensure that our vans have an oven, but if yours doesn't, all is not lost. Small stove top ovens can do much more than you might consider possible.
The Double Skillet
Years ago this was a legendary piece of kit, essentially it was two shallow saucepans that clipped together, on a low gas heat and on a diffuser (which makes great toast) they became one small stovetop oven and I'm sure that over the years they have warmed a million pies and croissants.
One lady made and sold them for over thirty years. She travelled the country selling at every motorhome and boat show in the land. She became poorly, stopped the business and the Double Skillet disappeared. Years later, someone revived the business and you can still buy them today.
We just passed a very tatty old original Double Skillet to our son, him and his girlfriend warmed their first croissants in it in their first motorhome this summer. Anything you can cook in an oven, you can cook on a double skillet, and when you are not using it as an oven, you have two handy saucepans for cooking porridge, warming milk or whatever you do with saucepans.
The Omnia Oven
Similar to the Skillet because it is a stovetop oven is the Omnia. This is a rather odd shaped cooker from Sweden that takes a bit of getting used to. However, there are legions of fans of this bit of motorhome cooking kit. They swap recipes and techniques and it will amaze you with what they can cook in it. People use it in their van to cook everything from bread to birthday cake. If you don't have an oven, consider an Omnia.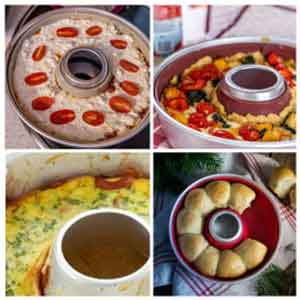 The Cob
This is both a barbecue and an oven, I've had one for 12 years and never barbecued on it but it has cooked lots of Sunday roasts It's quite bulky and we've not carried it since we downsized to a panel van and whenever we are away on a Sunday, I wish we had it with us.
Twelve charcoal briquettes once lit and grey will cook a large chicken or joint of pork. It's cool walled, there is no smoke or spitting. You can add some wine or beer to flavour the meat, and it cooks unbelievably well. They are expensive, but if you like your roasts; buy one today, you won't regret it. It cooks food so well, that in Summer I will often use it at home.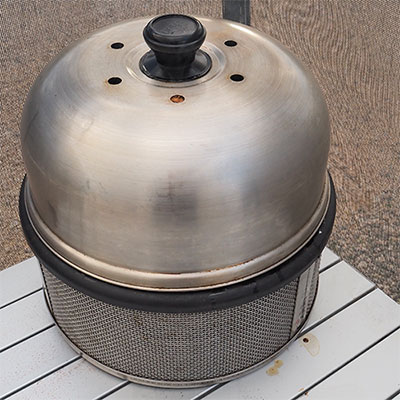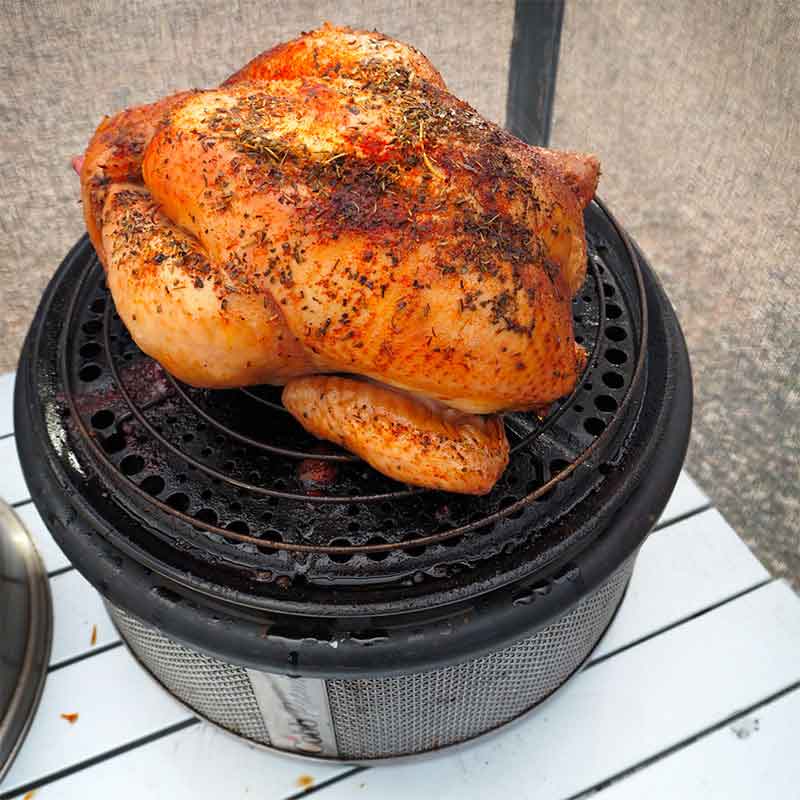 Remoska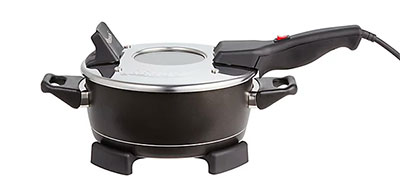 Lakeland's Remoska is an oven but uses electricity. It comes in two sizes and is very popular for good reason. It's a non-stick one pot cooker that roasts and bakes with aplomb. There are websites dedicated to cooking with it and people swap recipes on the forum. When on hookup, it is a great tool. The lid supplies the heat; they cook well and brown things nicely. Though I should say, in a small van, when it's time to serve, finding somewhere for that hot lid can be difficult. This is a seriously good oven. So many people buy one of these for the van and then later buy a second one for their home. Expensive but well worth it and at today's electricity prices will save you cash when you use it rather than a regular oven.
The Remoska uses only 400watts and if you have plenty of battery power or when on hookup it is a very capable oven.

​My favourite bit of motorhome cooking kit
After spending many hundreds of pounds on all sorts of cooking equipment, including every one of the items above and many more, most of it now lives in the shed. We just don't take it with us, we have an onboard hob and oven. The outside cooker we use today is this, it cost me just £10, ten years ago.
I use it to cook a full breakfast, maybe fry a steak, or cook a Paella. I take it to the beach to cook Mussels or fresh mackerel. It cooks far better than those awful disposable barbecues that litter beaches everywhere.
It's great for quickly and easily moving the cooking from the kitchen to awning, especially when cooking things that might be a little pungent. The fuel lasts a while and is easy to store and can be bought all over the world. Look at all those cooking programs where they are cooking outside, chances are they'll be using one of these. My wife Siân cooks from scratch most every day and is a major "foodie" Just this humble cooker along with a good pan and she's more than happy. It might be all you need too.
Gadgets Galore
If you like motorhome cooking, there are so many camping cookers and gadgets to help you prepare meals in your van. If you are 'foodies' like us, you'll probably succumb and buy them all. There are folding BBQ's, thermal cookers. All sorts of gas stoves and funny shaped barbies. We know someone who prepares most meals on a petrol stove and efficient it is too! Even the humble slice of toast has at least a dozen gadgets to enable you to make it as you like it. I'm pretty sure that in the discussion after this article you'll get lots of opinion on what cooking gadgets people use and what they find is best. That's it for this article, I must dash I'm feeling rather hungry.