Calling all gin lovers!
On Saturday 11th March 2023 we're taking our motorhomes and heading to Gin Jamboree in Tittensor, Staffordshire where we get to spend the day drinking gin, making gin and eating the included lunch
We will then stay overnight on site. (No EHU) We're also trying to arrange to meet up at a site a few miles away on the Friday night for those who want to. More details and additional campsite cost on Friday will follow as soon as we have confirmed numbers.
For the gin, you can book as a couple or join up with a friend to make up a pair and we currently have a single looking for a gin buddy. If you're a couple but only one of you drinks gin that's fine - just pair up for the day. The non gin drinkers are welcome to join us for lunch.)
It's not a cheap date - it works out at £75 per head for those partaking of the gin*, but for that you get to:
try gin
learn about gin
make gin
take home half a bottle each that you've made
eat lunch
enjoy great company
It promises to be a lot of fun! Reply or message me for more info. (
Mrs Quackers
)
* No charge for the non gin participants other than lunch.
There are only 10 gin places in total and 7 are already filled so don't hang around!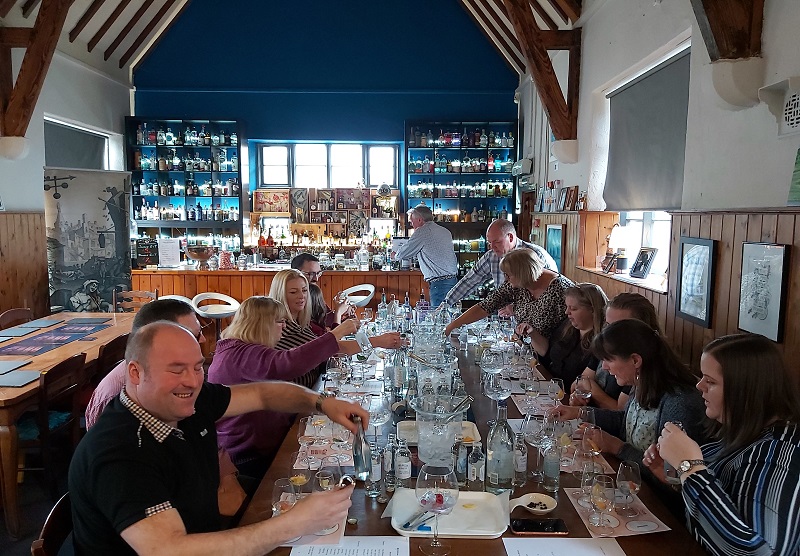 Info about the day explained by Gin Jamboree
We like to start the experience in the best way, with a G&T in hand. Once seated, you'll begin learning how this wonderful spirit came to be the quintessential British classic it is today. Tasting your way through history and the different styles of gin; it's the best sort of history lesson!
Once the theory is done, its time to put your newly learned skills - to the stills - as you move into the distillery and start to create your very own gin recipe; combining the dry botanicals necessary to bring your vision to life.
While your beautiful infusions are left to macerate, it's time for a well-deserved lunch or supper and G&T in the School Room, where fellow class mates can share their experiences
together.
Gin is a great social lubricant don't you know!
Once more returning to the Still Room, it's time for the practical. Our master distiller will be on hand to give tips on what to look out for as the heat is turned up and gin is born! Finally, all that's left to do is add a label and the crucial taste test. Matching your newly created wonder with which ever garnish and mixer you desire.
If you then wish to stay once the gin school is over, the wonderful 500's bar will be open along with the distillery shop, if you wish to expand your gin collection further.
-------------------------------------------------------------------------------------------------------------------------------------------------------------------------------------
Disclaimer
We do not have a connection with the Gin School, this is a bunch of Funster friends who thought it would be a nice thing to try. We currently have the date reserved, it cannot be booked via the Gin School website. Contact
Mrs Quackers
for more details.