I'm always amazed at how many times I discover someone has never taken their motorhome to France.
The conversation often happens in the tea tent at a rally. I'll ask a couple where they're going this year or if they're going abroad.
So many people tell me they never go abroad because they don't want to drive on the wrong side of the road.
It appears plenty of motorhome owners are too frightened to get on a ferry and go to France.
If that's you, then you are missing out. Driving in France is a revelation. The country is much bigger than the UK.
It has far fewer vehicles, so driving is often a much more relaxed affair than at home..
Why go to France anyway?
Well, there are lots of reasons for going to France. It's arguably the most Motorhome friendly country in the world.
Campsites and Aires are everywhere. The French love their camping cars and camping is a pleasure.
They have infrastructure in place making it easy to stay in almost every part of France.
The more beautiful that bit of France you are in, the more facilities you will find for motorhomes.
Many sites are free, or ask for just a token payment for water and electricity.
France is a beautiful country it has incredibly diverse range of breathtaking landscapes.
From the glamorous beaches and towns along its Riviera coast, to vibrant vineyards in the Loire Valley, snow-capped Alps and timeless ports of Normandy and so much more in-between.
Not going to France in your motorhome would be a tragedy
To be scared into staying away because of driving on the wrong side of the road is a tragedy.
If you can drive in the UK, there is no reason you shouldn't be driving in France.
This article is about giving you the confidence to drive on the wrong side of the road and enjoy a holiday in France.
If you find the confidence to go, I promise you won't regret it.
Tips Driving on the wrong side of the road
The first thing to say, is it is not as difficult as you might imagine. It becomes second nature after just a few hours.
You'll just be following what everyone else is doing. After a few miles you'll be wondering what all the fuss was about and why you've not done it years before.
For those first few miles it's much better to have two people in the motorhome.
All those years of judging widths and developing spacial awareness, counts for nothing in those first few miles.
Everything looks different from the wrong side of the road. That second pair of eyes will soon let you know if you are too close to that car or over the centre line.
If you are on your own, just be extra careful till you get your eye-in, slow down and concentrate, you'll relax in no time.
Oh My God!
So there you are, coming out of the port, it's busy, and you are concentrating on driving on the right, but then your head screams! What does that sign mean, where do I go from here, is this one way! Can I turn or not? You don't need that stress.
You need to remain calm and focussed. I know this is easier said than done, especially when under a bit of pressure. But you can reduce that stress considerably with just a little thought and practice.
You should make yourself familiar with French Road signs before you go. Many of the signs look very like our own. However, some signs consist of French words as well and can be confusing until you know what they mean.
Use a Sat Nav
Your Sat-Nav helps. When you approach junctions and roundabouts, your Sat-Nav will be a great reminder about where you are supposed to go. It will show you how to navigate junctions and roundabouts, reminding you to stay on the right.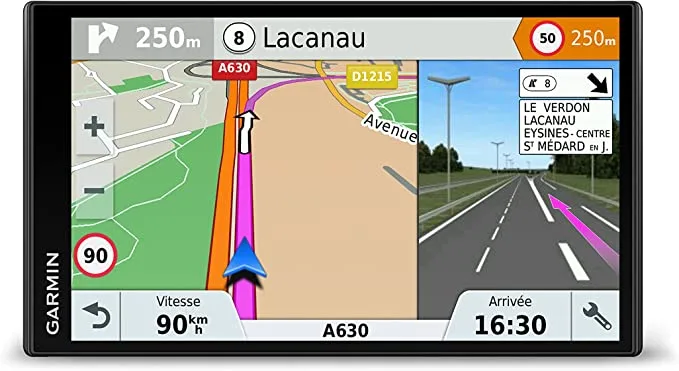 A Head Up Display
We produced a sheet that you print and place on your dash that becomes a 'head up display' reminding you to keep right. Written in reflected text on a white piece of paper and placed upside down on the dash will be reflected correctly, in the middle of your windscreen. It's easy to ignore and easy to focus on it for a bit of reassurance.
You can easily make your own, or if you are a subscriber to motorhomefun you can download it free here.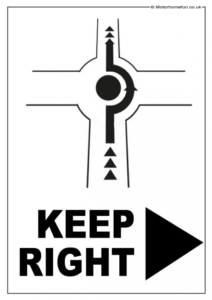 The BIG Danger
As mentioned earlier, all this is going to be much easier than you thought. After a few short hours on the road, driving on the wrong side of the road will become second nature, and you'll relax. And it's right there when you are in the most danger.
When you stop being worried about it. When you can handle any junction, negotiate the busiest roundabout, and know what most of the signs mean. You'll become far more relaxed and that's normally when it all goes wrong.
It will be quiet, no cars for them to follow. They'll pull away from a petrol station, or turn out of a carpark or side road and suddenly find themselves on the wrong side of the road. Most might travel a few yards, till a partner shouts, or they suddenly realise and correct themselves.
Stay focussed and it won't happen. But, if it does, that scary little reminder is normally all it takes to keep you on the right side of the road for the rest of the trip!
Stay Focussed, Say it out Loud.
Here is a tip that has helped plenty of people. Every time you release the handbrake, get in the habit of saying out loud, "keep right." Don't mumble it; it's best said out loud. "KEEP RIGHT" This is a trigger, it will trigger your focus.
If there are two of you, both agree to say it. And keep saying it, the entire trip isn't too long to keep saying it! No matter how good you get at driving over there, make it a thing. It might be annoying, it might sound a little silly, but it works.
Releasing the handbrake, say KEEP RIGHT. It will stop you making that non-thinking mistake that could be catastrophic.
The Takeaway
You shouldn't miss out on France in a motorhome, it is a superb destination
Road layouts and junctions in France can be a little different, but mostly they are like roads in the UK. Outside of the big cities, most French roads are good. You'll get used to driving there in no time.
You should do a little research before you go, know what French Road Signs mean. This will cut down on the stress.
Use your Sat-Nav, it's an excellent aid to remind you to keep right. Download our head up display. Here
One more thing before you head off accross the channel. Have a quick read about Crit'Air stickers for your motorhome
Don't get so relaxed you find yourself on the wrong side. Remind yourself regularly to KEEP RIGHT.