Lots of people headed abroad in their motorhomes this month. Here is a Motorhome pre-trip checklist that should help you remember the essentials.

Documents
Before you leave home on your trip, make sure you have copies of all your crucial paperwork. This will include;
Driving Licence, (International Driving Permit, if required)
Motorhome Log book,
Motorhome Insurance, Green card (if needed)
MOT (if you have one)
Travel Insurance,
Credit cards
Club cards ACSI, CCI, CAMC, etc
EHIC GHIC card
Travel Tickets
Medication prescriptions
Pet passports/Certificates
The best way to copy the documents is with a scanner or your smartphone.Take photos of each item, then save the images to a cloud service like Dropbox. Dropbox encrypts the data to and from its servers and its reasonably secure. That's all I do.
If you wish, you can add a layer of security by password protecting the folder that you store the file in, and you can also password protect the individual files before you send them and further switching on two-step verification, which means you can only access the files if you have your phone with you.
I store this data in three places; on Dropbox and in a Whatsapp group I share with my wife,
SHAPS FILE
We also have a cardboard document folder handy in the van that holds colour printouts of all the aforementioned documents along with an EU accident Report Form in each language we are traveling through or to. We also call this our Shaps folder. Why do we call it a Shaps folder? Well, generally speaking, we only ever need it when "Shit-Happens." Which is what I used to call it before my wife abbreviated it.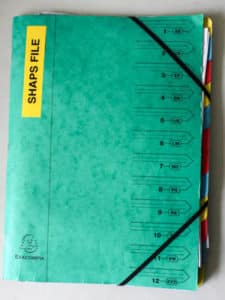 Tickets.
Very often these days your travel ticket might just be an email. It's best to print these in the event that you cannot reach your email. It is a good idea to use a highlighter pen on the dates and times of sailings. You wouldn't be the first person to arrive 24-hours late or 24-hours early for crossing!
Cash and cards
These should always be split. If you are a couple, then three ways is the best. One-third of the cash and cards on each of you in handbags and wallets etc. While the last third is hidden in the van. Do this before you leave! Travelling on your own, then half with you, half stashed in the van.
Stuff at Home
A holiday may be ruined if you are worried about what is happening at home. The best advice is to make sure you are fully insured and then try not to give it a thought. Be careful; many people find out when it's too late that they are not insured because they have left their home unattended for too long. Check your policy before you go. Don't leave anything in your home that you just couldn't bear to lose. That family heirloom, a special piece of jewellery, or shoe-box full of photos. Either take it with you will leave it with a trusted friend. When you leave your secured and insured home you've done all you can; so forget it and relax into your holiday.
Emergencies
Tell a friend or relative where you are going and how long for – give them some idea of your itinerary if possible and an emergency contact number.