Mar 23, 2017
34
7
Funster No

47,883
MH

Compass Avantgarde 2
Exp

Im a newbie
Compass Avantgarde 200 on Ducato SWB 2002 reg
Hi, I wonder if anyone has had a similar problem or can shed any light on this.
Attached are several photos showing the bottom of the join/corner strips where they meet the carpet. They are swollen and warped. This is the outside of the toilet/shower and next to the wardrobe.
As well as a photo of the interior of the WC/Shower which shows a possible gap between plastic floor and wall panel.
I suspect/fear that the cause will be water/damp from somewhere, but before I start taking things apart has anyone else had a similar problem and what was the cause and solution?
relevant info;
1. First noticed this week when using the van.
2. van last used November, didn't notice it then.
3. been in van several times between Nov and now and didn't notice it.
4. van bought April 2017 - no damp issues then.
5. used the shower twice in August, not before or since
6. carpet doesn't feel/smell damp
my initial thoughts are that it might be caused by water/damp from the toilet/shower coming through at the bottom of the panel. But if it is shower related why nearly 6 months to notice it? Or maybe the shower drain is leaking into the floor boards? But no other signs of damp anywhere.
Anyone got any ideas?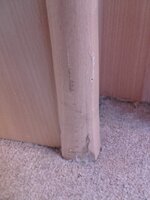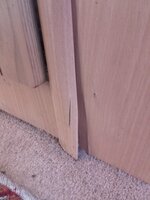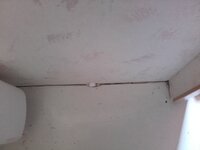 Thanks
Brendan