May 29, 2013
1,835
8,839
Funster No

26,231
MH

Chausson best of Flash 10
Exp

Several years now
There have been many threads in the forums about how to get a good DAB signal in a non-metal bodywork vehicle. 99 times out of 100 it's a problem with the aerial preventing good reception.
About 4 years ago when I put a DAB radio into our Chausson I mounted a cheap Halfords DAB aerial up on the awning box. This solved the reception problem and I actually got a way better signal than in my VW golf DAB, factory fitted. Only problem with the Halfords aerial was that is a magnetic base and low branches would tip it off the metal plate. Now, I could have fixed it solidly into position but I did not want to risk it being ripped right off. With the mag base I could stand on the back tyre and put it right.
However, I was getting a bit fed up with doing that repeatedly, so I have just invested in an amplified Shark Fin aerial. I bit of metal bashing with some 2mm Ali and it is mounted as shown. I tried the reception by just hanging the wires into the radio (the full installation is a bit away as I need to remove the awning box to drill a hole behind it to get the wires thro into the hab area). Even BETTER DAB reception, which I think is down to having a larger earth plane and a wire connecting the earth plane to ground in the MH.
With an eye to the future (when I get round to building the MH alarm) I mounted a 110db siren in the same box, with a mesh end cover. Pretty damn loud ! Probably due to the funnel effect of the mounting.
Anyway, it might not be the prettiest job in the World, but hopefully it is all problems solved with my DAB radio ! The pictures should be self explanatory.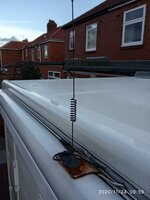 .