Jan 9, 2013
17,913
47,667
Funster No

24,219
MH

PVC, Murvi Morocco
Exp

2013
I'm running out of ideas for titles of the "Two Go" trips we've made over the last few years but "Exploring" probably about sums up our aims for this one. The idea is to find some out of the way places away from the popular spots though we will be visiting civilisation from time to time, we don't plan to rough it all the time.
Yesterday we boarded the Pont Aven at Plymouth and set sail for Santander on the north coast of Spain. The boarding was a shock as we encountered queues at Plymouth for the first time ever. This was going to be a busy ship on its first sailing to Spain from Plymouth in 2023.
The Pont Aven used to be regarded as Brittany Ferries' flag ship but I don't think that's the case anymore, although I could be wrong.
She has had a bit of a refit recently but not much has changed internally, new carpets in the Piano Bar and Flora restaurant but otherwise she's the same old vessel - and we like her!
The weather was not encouraging, the shipping forecast for Plymouth and Biscay where we were heading was sea state rough to very rough and winds rising to Force 8.
It was bumpy at times but not too much. The worst was the rain in the evening - walking Charlie on the dog exercise deck in rain and gusty wind was not pleasant. Fortunately, Charlie wasn't enjoying it either and did what was required fairly promptly.
We had booked a table in the Flora restaurant but the latest we could eat was 18:30, the last sitting was full but that was only 18:45. I'm not sure if these timing are always like that or this was a one off because afterwards two groups of disabled young people were called in, one after the other after all the rest of us had finished. Perhaps they do have later bookings but they had been pre-booked somehow?
But it matters not and eating early by our standards reduced the pre-dinner alcohol intake, and probably for the better, a glass of a Cóte de Provence was €8.
The restaurant has also suffered a bit of price inflation and the menu is now €42.
But it wasn't a bad meal and after the Club Voyage discount the cost for two of us including a modest bottle of wine was about €75. Extravagant perhaps but we take the trip as a one day cruise and enjoy ourselves.
The first course is a help yourself cold buffet.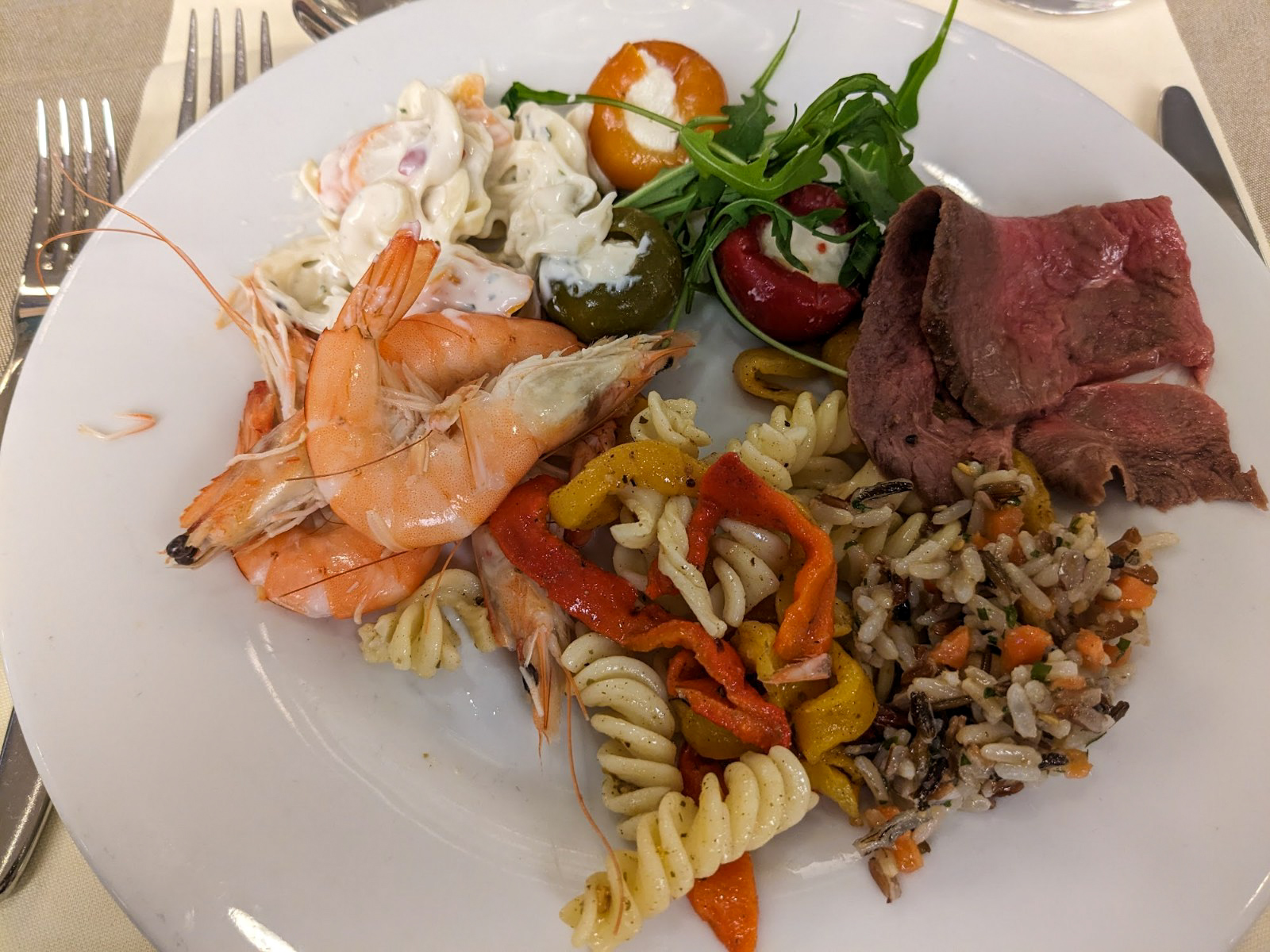 Very easy to pile too much on your plate - I think I showed great restraint!
I had the Dish of the Day, some very well cooked pork, tender and not at all dry with potatoes and artichoke quarters, pea shoots and some unidentifiable fragments.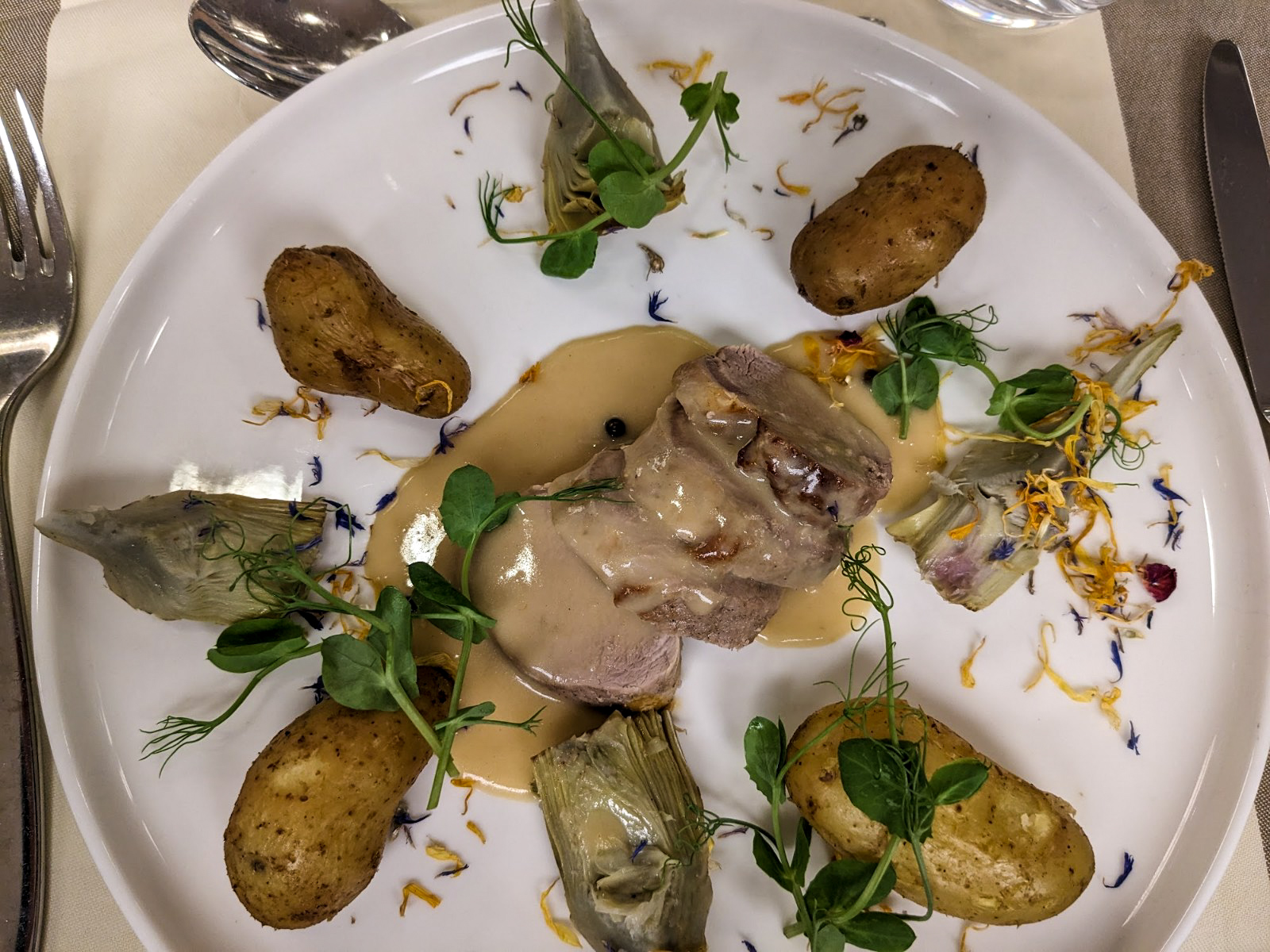 Mrs DBK went for mushroom stuffed pasta. It was nice but far too much for her.
I had cheese afterwards. There were five cheeses to begin with but I'd scoffed one before remembering to take a photo. Mrs DBK had a pudding of some sort (obviously not that full
) but I neglected to photograph it so you will just have to insert something yummy from your memory bank here.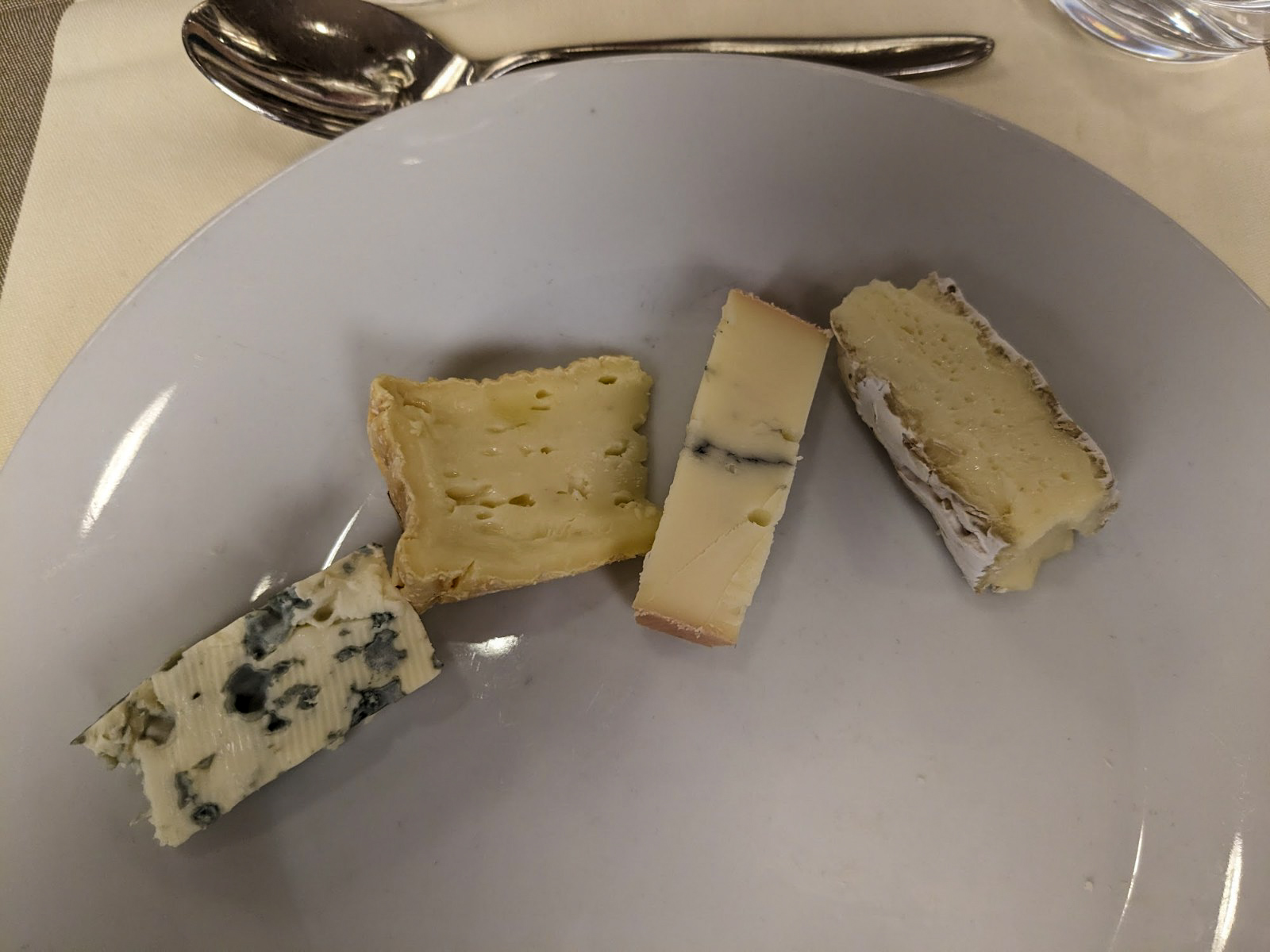 This morning we awoke to....sunshine! What a difference being 300 miles or so south makes! The sea wasn't flat but it was better than it had been the previous evening.
Disembarking the ship was slow, it seemed to take ages before the ramp was lowered and we were also warned over the tannoy clearing the port would also be delayed. Being on the bottom vehicle deck has its advantages, you may be last to board but you are first off. And yes there was a long queue at the passport control as only two lanes were open but as we got there the number of lanes suddenly increased from two to at least six and we were soon through. But it was a false dawn as we then hit another queue where those with pets (mascotas) were shunted off to one side and in a tent Charlie was zapped for his microchip and his £200 Animal Health Certificate officially endorsed to allow his entry into Spain. I'm not sure he appreciated this kindness as a little later he left a large puddle on the first bit of Spanish soil he encountered.
Coming out of Santander port Google Maps would have had me turning in all directions but I ignored the noises off and just followed the signs for Torrelavega where there are more supermarkets than you can shake a stick at in a small area. It was
vwalan
who put me on to this place for which many thanks. It's easily reached now from Santander as they have finished the dual carriageway although the very end just as you reach Torrelavega is still a bit of "work in progress". It is dual carriageway but you must get in the left hand lane early.
We shopped at Aldi then switched to Carrefour to find a travel hairdryer which fortunately they had. Mrs DBK's previous model had blown up in the cabin this morning!
From Torrelavega we headed south and by numerous tunnels and viaducts climbed up to nearly 900m to the free parking at Corconte, CamperContact 73256. (blue blob lower centre)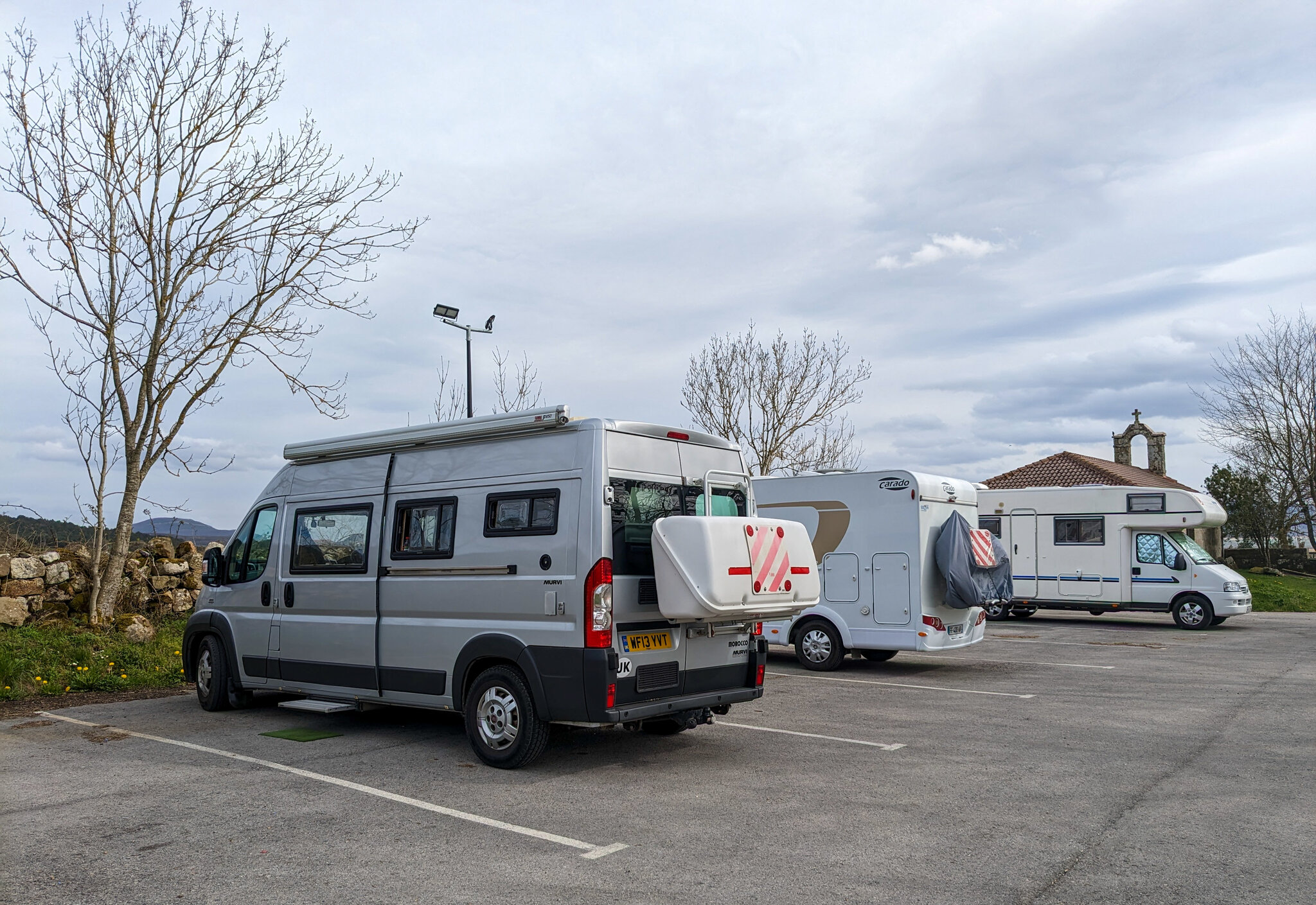 The parking here is close to the Embalse del Ebro and the source of the Ebro, Spain's longest river (possibly) is close by. We saw a sign for the source, the Nacimiento del Río Ebro on the way and I'm putting that down as "close enough". Just consider it as a drive-by visit to the source of the Ebro. We probably should have put in a swerve to see it as it's a noted beauty spot but on the basis we are avoiding crowds where possible I'm happy with our Close Encounter.
And that's about it so far on this trip. Taking the ruinously expensive ferry has at least allowed us, despite our late start to get ahead of
Lenny HB
who is still stuck in France dodging Molatov cocktails.
Last edited: