Oct 28, 2013
10,680
10,755
Funster No

28,783
MH

Van Conversion
Exp

A few years now
On
Thursday 10 & Friday 11 November
this week the discount code
MOTORHOMEFUN22
will give 20% off of
Solbio Original 1.6 Litre when buying direct from https://www.solbio.co.uk/
making it £20 (instead of £25) including delivery - if, like us, you want to give this product a try for both the toilet cassette & grey waste pipes & tank
Solbio has a 5 year shelf life before it's opened & 2 years once opened. The 1.6L bag is 40 doses (40ml dose so two seconds push on the dispenser tap) for the toilet cassette (50p a dose at discounted price) although the manufacturer also recommends using some to rinse out any previously used chemicals before first use for best effect. When using for flushing the flush tank should have a half dose (20ml) of Solbio added each time it's filled with water or when using a spray add 40ml of Solbio to 500ml of water.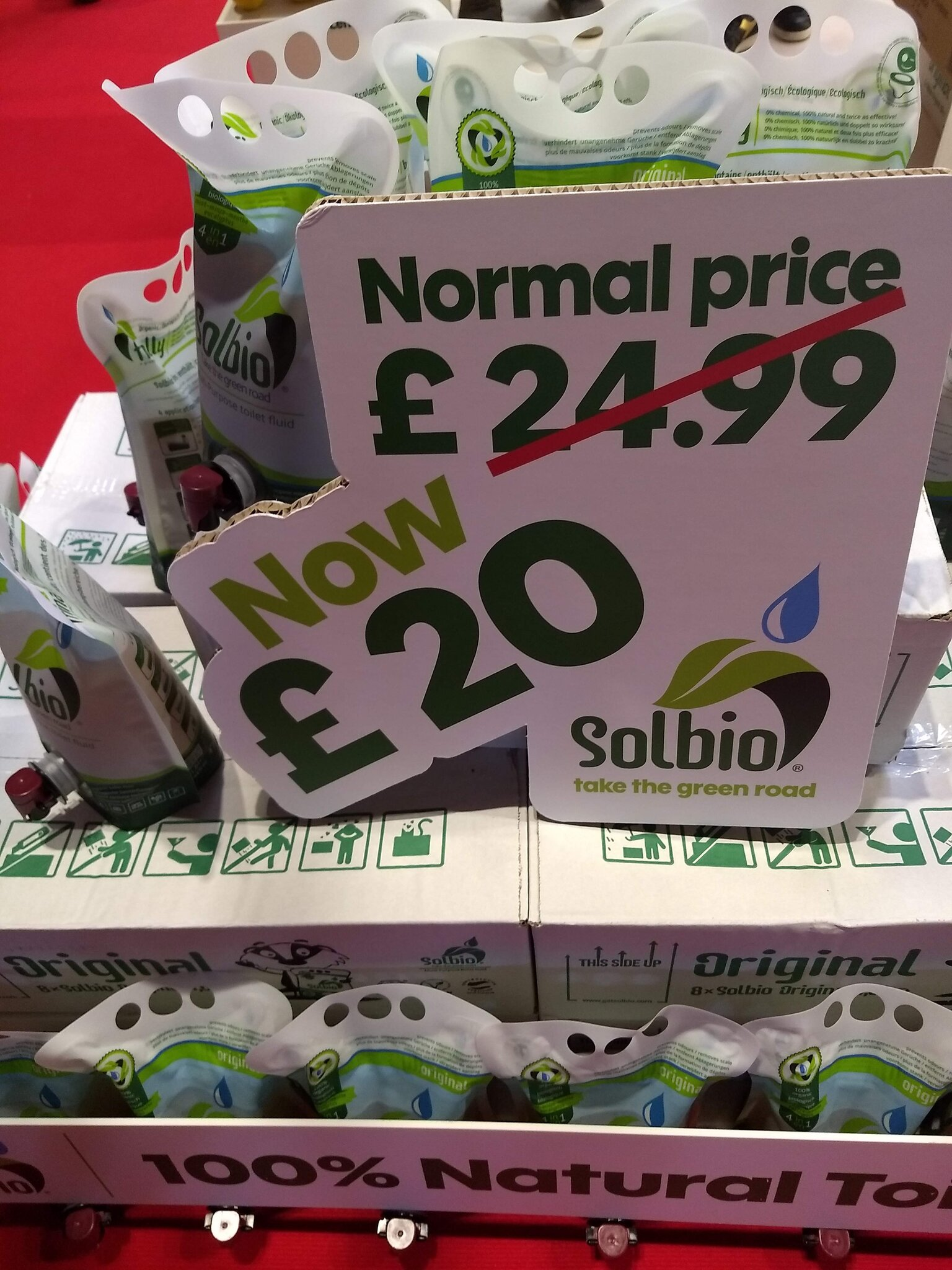 As previously mentioned on post 116 here
https://www.motorhomefun.co.uk/foru...s-tips-where-to-stay-whos-going.267681/page-4
we thought that using the Thetford or Dometic green toilet tabs was relatively eco friendly but whilst they may be marginally better than some other toilet products it turns out that they aren't as environmentally green as their colour! Before anyone asks we've tried almost everything ever suggested on here & none so far are ideal.
On both recommendation from other Funsters & having thoroughly quizzed the manufacturers on their stand at the Show, Solbio seems like a good natural alternative to try when we start motorhoming again next Spring. Looking forward to also using it to get rid of grey waste tank smells which have been difficult to totally eliminate. It can also be diluted in a spray to keep the toilet bowl clean or in a stronger concentration for cleaning the cassette tank. It is a clearish liquid with a pleasant but light smell which we like as have used Bio D cleaning products based on eucalyptus oil for years now. Unfortunately whilst the packaging is recyclable in some European countries it's not in our part of the UK yet. For ease of use we will probably decant it into a small bottle for trips. Fingers crossed this is the product that really works for all these applications & if you try it please do give feedback here

Last edited: