I put this question in the Chausson forum, but realised that it probably needs to be in here.
I have a second battery and have identified the space to put it, I just need a little help on wiring.
I have followed the wires out of the existing battery and as far as I can see the first place that they appear is at a split relay box, so I have something that looks like this:
'Main' in the picture is the existing LB.
The positive battery cable (25mm) and a much thinner negative cable come from the main
leisure battery
to the relay.
Can I check my thinking on how I wire in a second LB, please?
I think that I want to end up with it like this:
But having looked at the diagram on this page -
Second leisure battery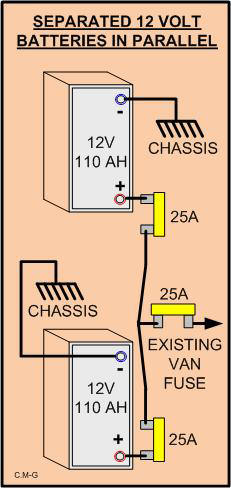 It looks like I don't have to connect the negatives battery to battery? As long as they are both grounded they will be OK?
It looks like a fuse 'in-line' between the two positives would be a good idea? I have not seen this recommended elsewhere.
Any suggestions gratefully recieved!
Attachments​