Just a little bit of info and a lot of photos on the above museum.
To be honest it ain't exactly a museum it's more a scrapyard but interesting enough all the same. It's 7 euro to get in which is a bit cheeky but I've wanted to have a look round for a while now so I stumped up the cash and went in.
Most aircraft have a little plaque beside them giving their spec. Weight, speed, armaments etc but that's all the information you get. It would have been nice to know a lot more about where the machines saw action and when.
Right beside the airport and you can easy get parked at any of the airports official car parks and walk along to the gate where you need to ring a bell for someone to let you in. Parking isn't too expensive and it's never that busy.
Anyway here are the pics...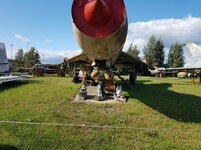 But this thing was the star attraction: An Mi-6 Heavy transport helicopter. Even with the guys jeep in the pictures you still wont get a sense of how huge this thing was! 136 feet long including rotors 30 feet high. This thing is an absolute monster...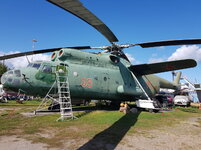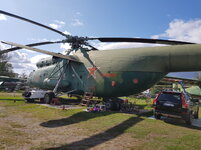 Sorry not a great pic of the spec sheet...
And that's pretty much it. If you are in to this kind of thing it is well worth a look. There is so much other stuff the guy has lying about. Old mines, engines, fire trucks, airport vehicles, enriched weapons grade plutonium. Just loads of stuff lying around for the curious.