May 12, 2019
493
661
Funster No

60,781
MH

Autotrail Delaware
Exp

Years Tugging - Newbie MHing
Hi Folks
I am in the process of figuring out the best way to run cable from the under seat storage area up to the Sargent panel in the top cupboard in my AT Delaware. I have some trunking which I believe goes from the panel and takes the battery cables down just behind the drivers seat, inside the bodywork to the outside, then into the battery box.
I suspect I need to remove this panel to then open that trunking (which you can see at the top right of the photo.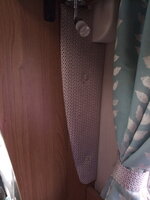 Problem. The decorative panel shown in the photo seems to be fixed to the bulkhead by the 'buttons' . I assumed these were like mirror screws where I could unscrew the button head and find a screw into the bulkhead under it. However neither of the buttons seems to want to unscrew - they turn but that's all. I tried a bodywork shimmy too both under the buttons themselves and also under the panel but neither wanted to 'pop' off. Don't want to wreck the panel or the buttons so how does it come off???
Any advice would be appreciated.
TIA