Our van is only just over 3 years old and the paint/coating is bubbling off the front bumper of our hymer! I sent pictures to the dealer who says it's out of warranty. As it's paint work on the base vehicle and is obviously a major fault I was wondering if anyone else has had this happen
It's now started really blistering and I think will start peeling off soon.
Do any of you knowledgeable folk have any suggestions that would save us the cost of a complete repaint
Here are some pictures, although it's worse than this now. These are what I sent to the dealer.
Thanks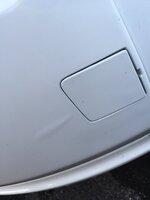 Denise