Jan 9, 2013
13,948
23,928
Funster No

24,219
MH

PVC, Murvi Morocco
Exp

2013
This is a MH friendly recipe although I made it in our kitchen at home.
Take a large parasol mushroom cap, this one is 8"/20cm across. How to identify the beast is another discussion.
I collected it in heavy rain so it was very wet. I rested it on the grill to dry out. Overnight it dropped spores on the marble worktop.
It's called a spore print and the colour helps with identification. White or cream is the colour from a Parasol Mushroom.
Whisk two eggs with two dessert spoonfuls of grated Parmesan cheese in a wide dish. In a second dish have some bread crumbs.
Dip the cap in the egg mix then in the breadcrumbs on both sides.
I thought two eggs would be too much but it wasn't.
Shallow fry in oil, I used rape seed, for about three minutes each side. I cut it in half to make turning it over easier. The iceberg floating off are the remains of the egg/bread crumb mixture which didn't stick to the cap. Nothing wasted.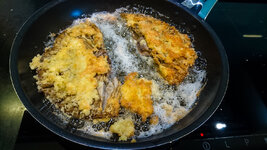 Serve with a salad and in my greedy case some boiled mini potatoes as well.
Last edited: