Aug 8, 2022
9
7
Funster No

90,466
MH

Autosleeper
Exp

Started Feb 2022
HI Folks I am trying to buy a replacement hose for a Cadac BBQ I bought S/H recently. I noticed a date on the hoses. Is this the manufacturing date or ? I believe the working life is 5 years.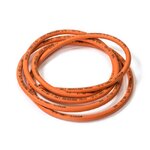 I did try and search for a thread but failed to find any previous.
15 mm o.d. orange high pressure hose to EN16436-1 Class 2 and BS 3212 Type 2.
Thanks Chris