Nov 23, 2016
89
11
Funster No

46,209
MH

McLouis Mc2 72 motor home
Exp

This our first!!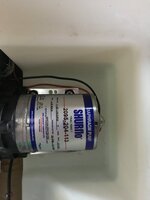 Hello all,
We have discovered a leak in our SHURflo water pump.
When the water is turned on at a tap water is also observed escaping from one of the pump parts (see image attached). I screwed the part tighter and it seems to have stopped the leak but would be interested to know what the part is? There are also two plastic "leads". One is red and the other is green. They are both capped but are not secured to anything. I'm not sure if this is correct?
Additionally can anyone suggest the best way to get in and dry out the floor under the pump?
Thanks in advance!