Many of you might have seen this already, but I wanted to post it up as I know that many of you are now heading to Spain for the winter and this is more relevant to you than ever.
http://www.motorhomewifi.com/blog/the-definitive-guide-to-data-roaming-in-europe/
Of particular interest at the NEC was the DSG Knowhow SIM deal which covers both Spain and Portugal and is the only SIM card to do so at anything like a decent rate with upto 10GB available for £25.99pm on a 30 day rolling contract.
Here is a table of the best UK packages available for use abroad at the moment by country: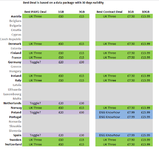 I'm not necessarily recommending this - but in the interest of giving you all the facts am making you aware of its presence. I'd be interest to know your feedback of anyone who takes the deal into Spain or Portugal this winter.
It's going to be an interesting year for 3/4G roaming data - there is a light at the end of the tunnel for sure, but nobody really knows what the landscape is going to look like post December 2015.
All the best,
Adam & Sophie
Motorhome WiFi