Jan 9, 2013
14,421
26,053
Funster No

24,219
MH

PVC, Murvi Morocco
Exp

2013
I've used Google Photos ever since my first Android phone. For those unfamiliar with it Google Photos stores a copy of your photos so if you ever lost your original copies you could log into Google Photos and download the missing photos.
From memory you can get unlimited storage for free but the system will only store a reduced size of the images. I'm now paying a monthly subscription and it stores the full sized versions but the reduced size system is good and of course doesn't use a lot of data.
What I didn't know is Google Photos has a clever search facility. I had seen the Search bar but always assumed it was just for searching for a specific name, but it does a lot more than that.
In looking for an image to go with a post I made this morning about MH fridges I needed to find a photo I took of the back of our fridge a couple of months ago. Having taken some two thousand images since April I didn't look forward to scanning through them all to find the one I wanted. So I entered "refrigerator" in the Google Photos search field. It only found one matching image which was this one:
This is an image I took with the camera on my phone but it wasn't the one I wanted. The image I was looking for showed the back of the fridge so I searched for "pipes" and found it!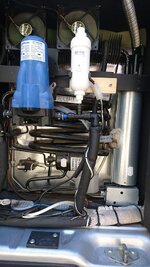 If I search for "food" it shows all the pictures I've taken in restaurants. You can also add search terms "mountains, cars" shows all the photos with a mountain and a car in it. The system isn't foolproof but it is very clever.
I should stress I haven't stored these images with these tags. Google is analysing the images and tagging them itself. It also has a system for people but you have to tell it who folk are first but thereafter I believe it would find all the photos of a specific individual once it has learned who is who.
Last edited: