If anyone is after a free PAYG sim with free credit each month then this might suit.
Background
: Hubby has just transferred his original 'Three' phone number to his Vodafone contract as his credit on Three had finally been used up however he likes to have a second sim for the odd occasions when Vodafone isn't strong or as a fall back for if we're away in a remote area with limited coverage (he has a dual sim phone) but due to Three raising their PAYG rates they are now expensive compared to others. He didn't want Giffgaff, ID etc as they require regular topping up, just a bog standard non-expiring PAYG sim, so I've been looking for an alternative and found this site which was useful:
Looking for a Pay As You Go SIM card? Compare & review PAYG SIM card deals from 19 UK mobile networks. Prices, coverage and offers.
kenstechtips.com
What I've got him
: I went down the various options and found a 'Welsh' offering by a company called RWG, which is only 5p a minute for calls and being on EE's network meets our requirement for different provider, there's no requirement to top up regularly so he can just use it to make a call/text/browse once within each 6 month period to keep it active which is good enough but it gets better ... when I explored it further there appears to be a bonus each month of mins/texts and data which is great as that will be just what we need so no need to top up unless we intend to use it a fair bit (of course we might have to do this the first time when we activate it but I'll report back when we get the sim!).
RWG Mobile is Wales' mobile network. Full mobile communications package including 4G, Wi-Fi calling, Welsh language services and international roaming.
rwgmobile.wales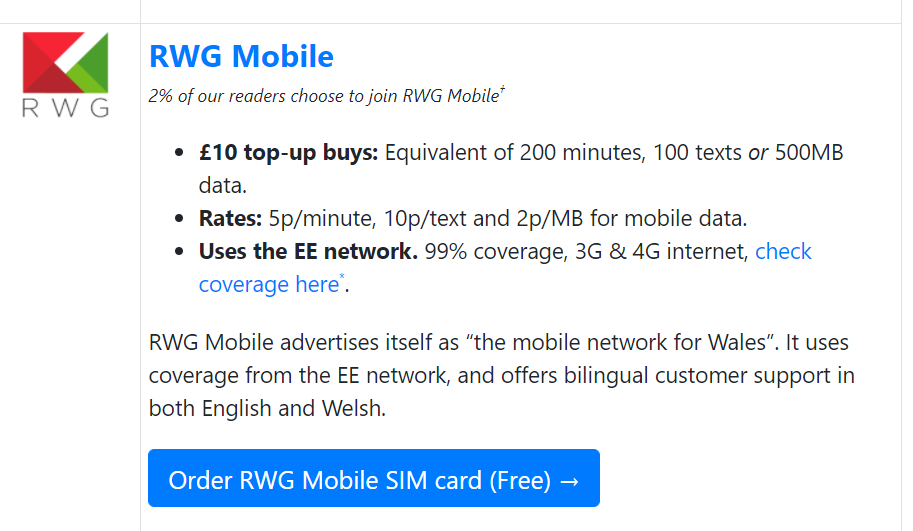 When I did a search I also found other sites which say the call cost for Asda Mobile calls is now 4p per minute so appears to have dropped from 8p since the info was put on the above site (they've on Vodafone so no good to us).
Hopefully it might prove useful to others.