Jan 16, 2014
789
2,724
Funster No

29,717
MH

C Class, Autotrail Scout
Exp

Oct, 2013
Where V = Volts - Voltage
I = Amps - Currant
R = Ohms - Resistance
The illustration shows a simple way to remember the three formulae.

From the middle pyramid, we can deduce that I = V/R (i.e. that current flow
increases
with
increased voltage but
reduces
with increased resistance).
Where E = Volts - Voltage
I = Amps - Currant
R = Ohms - Resistance
W = Watts - Wattage
You can calculate the amount of power if you know two of the three electrical values – voltage, current and resistance.
See the formulae in the wheel (E, like V, is used to indicate voltage).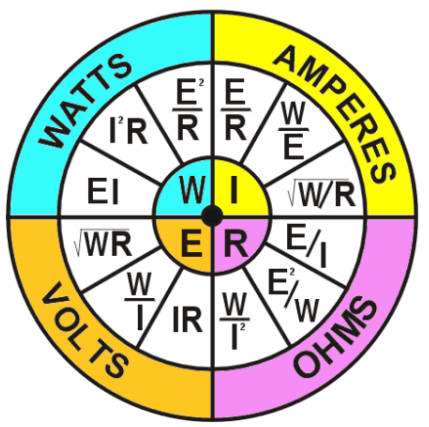 e.g. I = W/E or E/R