sallysludgebucket
Deleted User
It is a conversion by GT Motorised, with a passenger side side door to enter the back, with table and seating in the rear, that converts into a double bed with a slide out double bed above the cab. Having once apon a time owned several highwaymen conversions, day vans, caravans and any number of make do's ( no offence to home conversions intended ! LOL ) I am keen to find out more about the 'Cramper' back, especially the routes of cables etc to be able to rolling wreck repair her to former glory.
I have been out of home for over 7 months due to flooding, and my camera is in a box ------------ somewhere, but I have found only one other the same and enclosed pics, when the warmer weather arrives I cant wait to have a go at the rust, it may look like this one day ! LOL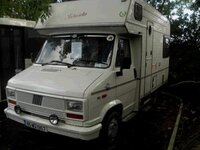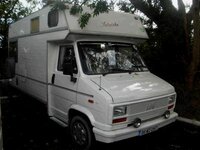 Anyone know anything about this particular conversion, I have seen many with read door but none anything like similar. It is 18ft total length and 9ft tall, I have just replaced the front seats with a double and single swivel set from my old Toyota import. My friend and I are both disabled and its so much easier to get in, and just swivel round to sit on what is effectively now a very comfy sofa ! LOL
Any help advice very much appreciated, is it actually a motorhome, or motorcaravan ?