Dec 11, 2013
18,894
28,990
Funster No

29,351
MH

MORELO palace
Exp

since 2012
OK confession time this is not for the motorhome it's the house, I want to replace our Danfoss TP5000 programmer/thermostat and Danfoss TRV with the DRAYTON wiser smart system, Hub, Room stat and programmable TRV.
I have no problem with the TRV heads and I think I have got my head around the relacing of the Danfoss TP5000 programmable room stat/timer with the drayton smart hub but I would just like to double check with the knowledge base on here
We have Worcester Bosch Greenstar Highflow 440 condensing boiler, the TP5000 is just two wires so Live and switched Live return, the old Danfoss TP5000 instruction specifically say to not use a Neutral or Earth but spare wires are available in the backbox
These are basically the instructions from the Drayton wiser hub that replaces the TP5000, the thermostat is wireless so not involved,
This is the back of the TP5000 the Red in the COM will be the live to the Drayton wiser hub with a link to supply the COM, the Yellow in the position C or N/O will go to terminal 3 or ON on the Drayton,
So far so good hopefully but that leaves me with with no Neutral as it is not connected back at the boiler, see below.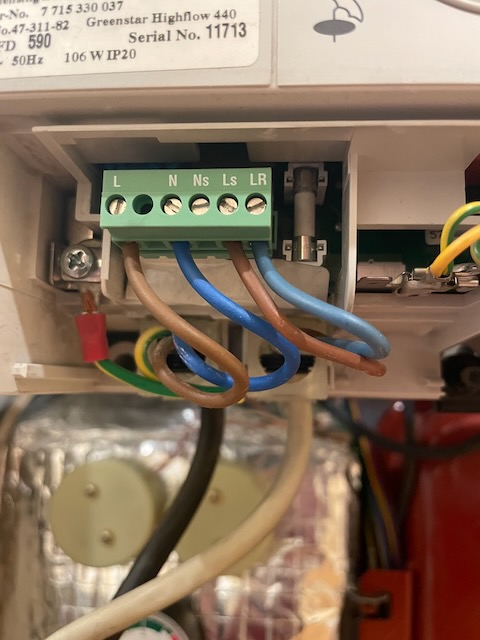 Just to confuse me the wires are different colours at the boiler end but I found a junction box which explained this
Ls is the live to the TP5000 but is Red at the other end and LR is the switched return, I propose to use the boiler Ns for the Neutral to the N terminal on the Drayton hub and I am thinking that terminals 2 and 4 are not used.
If anybody has got this far and is still with me, well done and thank you for reading this far
furthermore can any funsters with more experience with these things than me confirm that I am on the right track? please.