Oct 28, 2013
7,314
4,544
Funster No

28,783
MH

Van Conversion
Exp

A few years now
It's back for the third year - our July Fun Meet at the lovely Highlands End Campsite
https://wdlh.co.uk/holiday-parks/highlands-end/motorhome-touring-pitches/
with views of West Bay, Eype beach, Bridport & Golden Cap! We've had the most superb weather for the last two years

- can't promise that but can promise a warm welcome from us & the company of friendly fellow Funsters in a well appointed campsite in a fab location. For those that like music festivals
it will coincide again with the Jurassic Fields Festival (a walk downhill & short taxi hop back up)
https://www.jurassicfields.com/
10 & 11 July in Bridport which has some great acts & affordable ticket prices. There is still a lot to see & do if festivals aren't your thing so not compulsory! This is the thread from this year to give you a better idea of what to expect
https://www.motorhomefun.co.uk/forum/threads/jurassic-coast-festival-meet-2019-highlands-end-bridport-dorset-11-15-july.180950/
.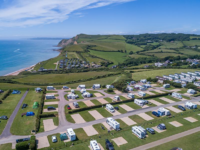 Bookings are already being taken for July 2020 as on Highlands End updated website campers can now rebook before leaving the site so if you definitely want to come along then please book as soon as you can as quite a few missed out this year as it's a popular time so was full when they tried to do so. Please note that Highlands End don't allocate pitches so you choose from what's available of your booked type on arrival & because of this we don't have an allocated Fun area so mixed in with other campers but this year most were never far from other Funsters & the more that come along then that helps create more Fun spirit on the campsite

Quite a few campers joined Fun while we were there this year & many commented on how friendly we all were
Prices for 4 nights including EHU are £92.40 on a grass pitch or £117.60 on a gravel pitch or hard base pitch. The hard base pitches tend to be smaller but do each have their own water tap & grey waste drain which the others don't but there is a dedicated drive up motorhome service point & lots of water & waste points on the campsite. If choosing a grass or gravel pitch you are more likely to have a view of the coast or countryside but this is not guaranteed & depends on what is available on arrival so bearing this in mind Funsters can arrive from midday so earlier than the normal 2pm arrival time but please be patient if ground staff are still cleaning the pitches or cutting grass. No matter where you are pitched it's just a short walk to stunning views. This price includes 2 adults, motorhome, awning or Quest mesh screen house (gazebos not normally allowed) and car. Booking these 4 nights currently includes 10% off their per night prices as more than 3 nights & early booking. As they are guaranteed to be fully booked at that time of year there was no room for negotiation on these pitch prices but they have agreed to one dog to be free per booking (maximum of two dogs allowed on each pitch) for Funsters for this Meet - at this time of year this saves £3 per night & the one dog free offer also applies for the duration of your stay if you extend your Meet booking to more nights so could be quite a large saving for some
There is a one person discount for those staying on their own - currently taking it down to £80.40 for 4 nights on a grass pitch & £105.60 for gravel or hard base for these 4 nights and will automatically apply when booking online.
Booking longer stays or weekdays only can work out a little cheaper per night & this year quite a few extended their stays.
If you would like to return next year or join us for the first time then book online here https://wdlh.co.uk/motorhomes-touring-caravans/ & in the Special Instructions box please put Motorhome Fun then your forum name then 1 dog free if applicable:
e.g. "Motorhome Fun Wombles 1 dog free"
Don't add a dog to your selections on the booking unless you are bringing two then one needs to be added & paid for.
If any general queries then post on here or message us

but if to do with your booking then call Jo or Hana at Highlands End Booking Office on 01308 426947.
Once booked please let us know so we can add you to the forum list of attendees - if you want to give us your first names plus type of pitch that is helpful so we have an idea of where Funsters are but not essential.
Like other Funsters we are likely to say hello


as we wander around but that's all so no pressure to join in with anything. Everyone is invited to meet up in the campsite bar or beer garden on the first & last nights to get to know each other but no obligation to do so.
Please note that whilst the campsite is very dog friendly
from next year Jurassic Fields Festival no longer allow dogs - please see post #22 for more info.
Booked:
Wombles - Alan & Karen (gravel pitch - so you know where to find us!)
Ejaydee - Eddy & Clare (gravel pitch)
DuxDeluxe - David & Alison
Electraglide - Trevor & Barbara (grass pitch)
David and Sally - David & Sally (gravel pitch)
LPB - Lloyd
Nana - Toni & Mike
Jalopiers - Bob & Sue (grass pitch)
Dizzy Izzy - Lesley & Chris (gravel pitch)
jimairi - Jim & Mairi (grass pitch)
Ginster - Ginnie (gravel pitch)
Hastingsranger - Mal & Ian (grass pitch)
MikeD - Mike & Sandra (grass pitch)
Anthea M - Anthea & Rob (gravel pitch)
Debs - Debs
Jenben - Carolyn & Chris
Badknee - Paul & Angela (grass pitch)
Mr Chrysalis - Chris & Alice (gravel pitch)
stevewagner - Janet & Steve (grass pitch)
philann - Phil & Ann (gravel pitch)
Granjan (gravel pitch)
TheTwoOfUs - Neil & Merilyn (gravel pitch)
Stretto Boy (gravel pitch)
Les - Les (gravel pitch)
Kev and Ju (gravel pitch)
Andychad12343 - Andy
bigalw35 - Marg & Alan (gravel pitch)
h1ghway1 - Pat
swiftsteve - Steve & Jan (hardstanding)
westhamman (gravel pitch)
Jandz - Janet (gravel pitch)
Nanniemate (grass pitch)
WellWornTraveller - Bernie & Christine
Centurian - Peter & Eileen
big map - Andrea (Friday)
Baycott - John & Jan
Dorwyn - Geoff & Carol (gravel pitch)
Kannon Fodda - Rob (grass pitch)
Rabbitheartedgirl - Rosemary & Steve (gravel pitch)
Targetpaster - Bob & Jan
Scout - Phil & Andrea
Jasz - John & Sharon (gravel pitch)
Last edited: