Apr 28, 2008
7,130
13,158
Funster No

2,360
MH

Pilote V600g
Exp

2007
Just looking through some old photos, and we have been out and about a bit since we got our first motorhome in 2007, some you look at and it could be anywhere, but others make you want to do it all again, first reason is we really liked the fantastic scenery, loved the people and Izzy our dog had miles of sandy beaches all to herself, the second reason is, Janie had one of her best haircuts before this trip in Portugal, and I convinced her to have a trim in Canterbury and the Romanian girl didn't know the difference between mm and inches
disaster struck
so thanks to me she got a free haircut.
So think we should get some better photos and go again.
It can get windy, people are very friendly and always say ' how you doin '
alot of the roads are narrow and some disappear at times, and in comparison with other places we have visited it's very quiet and was free camping for a month.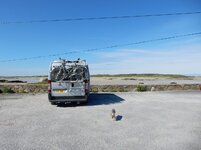 We know we had good weather in June 2015, but we didn't expect it when we booked.. Ireland.
Bob.