Aug 10, 2014
138
119
Funster No

32,754
MH

Talbot Voyager 2 coachbui
Exp

Newbie
Been out this morning to pick up baz.

He's not perfect (hole in the grey water tank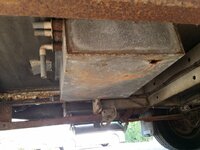 , hole in the exhaust and a few minor brake issues) but he's all ours. Managed to work out how the hot water, heating and toilet works so far but have a few questions.
The first of which is about the water heater. There's an on and off switch but no thermostat. Should there be one or will it just cut out at a preset temperature?
I've just about figured out the Zig SP7 controller but how does the leisure battery get charged up? The instructions mention nothing about this?